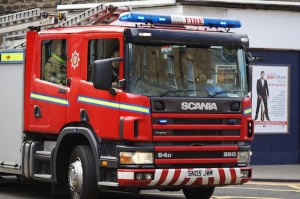 Board Meeting in Edinburgh – An Opportunity for Engaging with the Communities of Scotland
The Scottish Fire and Rescue Service Board are holding a series of Board meetings across Scotland in a bid to strengthen the relationship with the communities it serves.  The first of these meetings took place in Aberdeen in September and the next meeting is scheduled for Edinburgh on Thursday of this week.
The status and profile of SFRS Board members provides them with a unique ability to strengthen the connection with communities and the rotational meeting system seeks to improve community accessibility to members.
Over the next year there will be further opportunity for Board members to strengthen relationships with key stakeholders from communities across Scotland and develop an understanding of the shared outcomes which can be achieved through positive partnership working.
Following the successful engagement event held in Aberdeen, the next engagement evening will be held in the Edinburgh City Chambers tomorrow evening.  This will enable members of the Board to meet with representatives of the Edinburgh local community.
Pat Watters, Chair of the SFRS Board said:-  "Our scheduled programme of meetings will allow the Board to positively engage with communities, improve the visibility and accessibility of members and develop a better understanding of the Board's priorities translated into a local context.
"It is crucial that the Board achieves an improved understanding of the needs and concerns of our communities across Scotland and explore collaboration opportunities which will deliver a greater level of safety and security."
Chief Officer, Alasdair Hay added:- "As a national service, it is only by understanding the diverse needs of our local communities that we can continue to deliver the type and quality of services the public rightly expect.  The circuit of Board meetings and engagement events we have planned around Scotland therefore provides the Board and the Strategic Leadership Team with an excellent opportunity to develop local connections with public, private and third sector colleagues, who share our desire to deliver improved outcomes for communities at local level".
Assistant Chief Officer Peter Murray, Director of Service Delivery for the East welcomed the Board's visit to Edinburgh.  He said:  "The Board members' on-going support for the communities and partners across Scotland is highlighted in the rotation of their meetings in each of the Service delivery areas,  and I am sure their presence in Edinburgh will be welcomed by our partners and our staff alike."