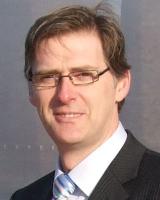 Edinburgh MP Mike Crockart has welcomed the launch of a new service from TalkTalk which allows customers to identify and block nuisance callers.
TalkTalk launched the call blocking service as part of its HomeSafe internet security on the 29th October, and is the first ISP in the UK to offer this service at a network level. Customers who have been receiving excessive numbers of calls from a single number can report them quickly and simply online, with TalkTalk investigating requests with a view to potentially blocking numbers at a network level if there is evidence of misconduct that breaches a strict set of rules.
Mr Crockart, who has been running the 'No 2 Nuisance Calls' campaign for the past 18 months, is pleased to see action taken against the bothersome callers: "I have been contacted by hundreds of constituents who are sick of receiving nuisance calls day in and day out. It is an escalating problem, and one which can no longer be ignored. I have repeatedly called on the government and the industry to take action to protect the most vulnerable in society and it is great to see TalkTalk responding to those calls.
"It is not just up to the Government to take action, the network providers also have a responsibility and I am delighted that TalkTalk have recognised this and are working hard to protect their customers.
"However, it is not enough for one company to provide this service, we need joined up action from across the industry as well as from the Government and the regulators. There is not a single solution to the problem of nuisance calls but it's clear telecoms providers are key to eradicating the menace of nuisance calls once and for all and I therefore urge others to follow TalkTalk's lead."
Dido Harding, Chief Executive of TalkTalk Group added:-"We know from our customers that getting nuisance calls is one of the more stressful experiences they encounter. Thanks to the technology, determination and most importantly our customers' help it is now possible to identify and block these calls from reaching TalkTalk homes. We are pleased to launch this new nuisance call reporting service that lets our customers to alert us to suspected scam and nuisance callers quickly and simply online, which our expert team can investigate with a view to blocking numbers at a network level if there is evidence of misconduct. This is the next stage in our HomeSafe offering, which we launched two years ago to let customers take control of how the internet is used in their home."
As the block is at the network level, TalkTalk can only block for customers who are on the TalkTalk network; the service is not available to TalkTalk customers outside the network. TalkTalk are unable to block residential or mobile numbers, banks or debt collection companies or legitimate sales and marketing companies that have not breached the strict criteria.