"Can a billion people be wrong?"
Chop Chop is an award winning restaurant with a great history, beginning when Chop Chop's owner Jian Wang arrived in Edinburgh from China in 1997.  Jian was amazed to find that Chinese cuisine in the UK was dominated by the Cantonese style and with her love of the jiao zi dumplings, from Changchun in North-Eastern China, she set about trying to change perceptions.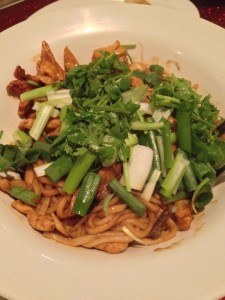 In 2006 she opened Chop Chop in Haymarket which by 2008 was voted Best Chinese Restaurant in Scotland, and Chop Chop received even more acclaim in 2009 when it was voted onto Gordon Ramsay's F-Word T.V. show.
Chop Chop serves delicious healthy Chinese food and having heard so many great things about Chop Chop we were eager to try their renowned boiled and fried dumplings and Crispy Northern Chicken.
We decided on the 'unlimited banquet for two'. It really is unlimited and at £19.75 per head this is not only healthy but also a cost effective way to dine.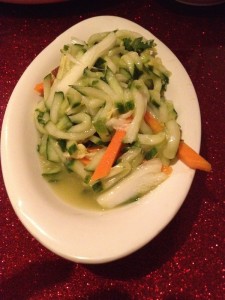 The set banquet consisted of a Cucumber salad which gave a fresh initial bite to the meal. It was so good we ordered two portions as well as pan-fried aubergines which are actually one of their most popular dishes.
We also ordered the much talked about Crispy Northern Chicken and I am ashamed to say that I polished off two portions! It was honestly the best Chinese dish I have ever eaten. Not to shy away from the dumplings we ordered the pork and coriander Jiao Zi (boiled dumplings) and the spicy beef and chilli Guo Tie (fried dumplings). The tasty little morsels came with a sauce of Soy, ginger and chilli which you mix yourself according to taste.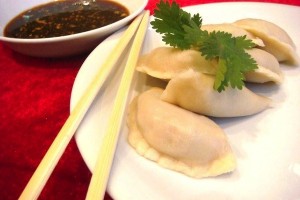 Please do not leave Chop Chop without first having a wee look at the pudding menu. After eating such fantastic fare we nearly waived this opportunity, but thankfully our lovely host (and Jian Wang's son) convinced us otherwise. The puddings were almost my favourite part of the meal (the Crispy chicken just pipped it to the post) and we ordered the peanut dumplings (yes they are as good as they sound) and the sugar string apple. The sugar string apple was not only yummy but a lot of fun too and can only be described as a DIY toffee apple (perfect for this time of year!).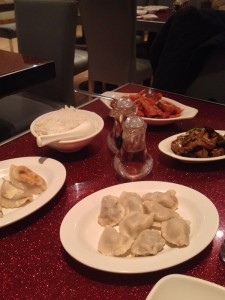 There is a good atmosphere at Chop Chop and fantastic food to back it up. I will definitely be going back and it certainly lives up to its tagline – "Can a billion people be wrong?"
Chop Chop, 76 Commercial, EH6 6LX 0131 553 1818
The Reporter Food reviewer, Holly Jones, is a partner in The Lifestyle Company Scotland  You can follow the company and their lifestyle tips on Twitter