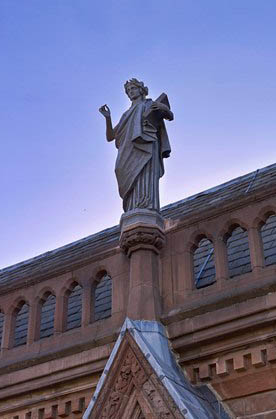 SCOTTISH NATIONAL PORTRAIT GALLERY 'MAKES HISTORY' WITH STUNNING NEW SCULPTURE

Alexander Stoddart: Making History documents the fascinating process behind the creation of History, a new monumental sculpture recently installed on the exterior of the Scottish National Portrait Gallery. Made by Alexander Stoddart, who was appointed Sculptor in Ordinary to The Queen in Scotland in 2008, the sculpture is a representation of 'History', or Clio, one of the nine muses, the daughters of Zeus, who in Greek mythology inspired learning and the arts.
The new sculpture adorns the apex of the entrance to the Gallery and replaces the original figure of 'History' by the sculptor William Birnie Rhind (1853 – 1933) which weathered beyond repair and was later removed. Stoddart's new figure is cast in aluminium, stands almost two metres tall and weighs 85 kg. The exhibition explores the technical process employed in creating History through the display of a rich and varied collection of the artist's preparatory drawings and sculptural studies. These are accompanied by photographs taken in Stoddart's studio at the University of the West of Scotland, Paisley Campus, and at the Black Isle Bronze foundry in Nairn where the sculpture was cast.
Alexander Stoddart is perhaps best known for his neo-classical sculptures of key proponents of the Scottish Enlightenment which grace some of Edinburgh's most iconic civic spaces; these include representations of the philosophers David Hume and Adam Smith on The Royal Mile and the physicist James Clerk Maxwell on George Street, a bronze study for which is currently on display at the Portrait Gallery in the Pioneers of Scienceexhibition.
Commenting on the new exhibition, Director of Scottish National Portrait Gallery, Christopher Baker said, "This wonderful new sculpture is sited serenely above the façade of the Gallery, both making a statement and being entirely sympathetic to its context – one of Scotland's greatest nineteenth-century buildings. It is the first enrichment of this sort which has been installed on the Gallery since the Victorian period. The related exhibition will illustrate in a compelling manner the extraordinary commitment that Alexander Stoddart made to this high profile commission."
Alexander Stoddart, said, "This tremendous commission, to complete the sculpture scheme of the Portrait Gallery, gave me the opportunity to pay homage to some of the great late-19th century artists whom I have admired since my earliest days as a sculptor. It has been a weighty honour to have been allowed to work in collaboration with these long-dead men, and a pleasure working with the people at the Scottish National Portrait Gallery who are all alive and thriving in one of the greatest National-Romantic buildings in the British Isles. I should like to thank them all, and to thank my studio assistants in Paisley, and the foundry-workers in Nairn, who worked so diligently with me to achieve this end; a simple little figure, standing where she ought, with the clouds behind her."
Alexander Stoddart: Making History
12 October 2013 – 28 September 2014
Scottish National Portrait Gallery, 1 Queen Street, Edinburgh EH2 1JD | Admission free
Photo courtesy of National Galleries of Scotland John McKenzie