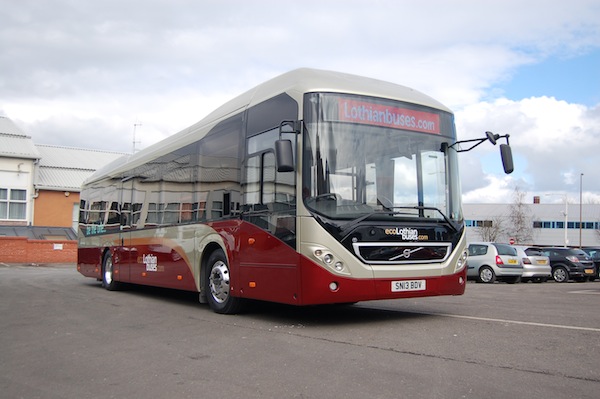 Lothian Buses is adding 20 new single deck hybrid buses to its fleet following the successful introduction of the state-of-the-art eco vehicles earlier this year.
Set for delivery in 2014, Lothian Buses has ordered 20 new Volvo 7900 Hybrids which provide a host of eco-friendly features, saving hundreds of tonnes of CO2 emissions.
Lothian Buses made the decision to add the new vehicles to its existing fleet of 721 buses, as a result of the low fuel consumption and smooth operation of the buses,.
Bill Devlin, Engineering Director at Lothian Buses, said:- "Expanding our existing fleet with these eco-friendly buses is another positive step in our journey to providing a greener and more sustainable travel offering to our passengers and to the local environment.
"Since introducing the hybrid buses earlier this year, we have been extremely impressed with the low fuel consumption and the overall running of the vehicles. We can't wait to see even more of these results."
The current Lothian Buses single deck hybrid buses serve passengers on the No. 1 bus route from Clermiston to Easter Road, combining a high-tech electrically powered diesel engine with aluminium body framework, specifically designed to save weight and reduce fuel consumption
Phil Owen, Bus Sales Director from Volvo which is providing Lothian Buses with the vehicles said:-"We successfully launched the 7900 Hybrid single deck bus last year and Lothian Buses were one of the first operators to secure an order. They have achieved significant in-service fuel savings and have been very pleased with the overall performance of the buses."