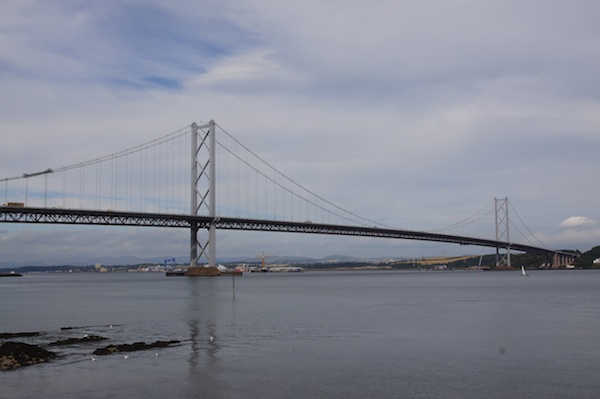 TICKETS TO BE RELEASED THIS WEEK FOR TOP TOWER TRIPS
One thousand exclusive tickets for a once in a lifetime chance to scale the heights of the Forth Road Bridge will go on sale this Wednesday 30 October at 1:00pm.
Demand is expected to be high for these one-off tower top trips which will take place in July and August 2014 in the run up to the Forth Bridges Festival. The ten day Festival is a key part of the Homecoming Scotland 2014 calendar and celebrates the 50th birthday of the Bridge.  Tickets, which will be allocated on a first come, first served basis, are priced at £120 plus £2.95 booking fee each. Those fortunate to secure places will ascend by lift and ladder 156 metres above the Firth of Forth, where they will be met by stunning panoramic views of Edinburgh, the Lothians and Fife.
At 10am on Friday 1 November, 96 tickets for an "Ultimate Bridge Experience" on 9 or 10 September 2014 will also go on sale.  Priced at £180 plus £2.95 booking fee per ticket, these packages will give visitors the chance to enjoy the bridge from a variety of new perspectives on land, sea and high above the road.  As well as a tower top trip, this definitive experience will  include the chance to see first-hand the hidden engineering of the Bridge by viewing the anchorages underneath;  lunch with a view in a local restaurant; and a boat tour of all three bridges, including progress on the new Queensferry Crossing, due to open at the end of 2016.
Lesley Hinds, convenor of the Forth Estuary Transport Authority, said:- "Major bridges around the world are awe-inspiring and held in particular affection by the public.  As the Forth Road Bridge prepares for its golden milestone, we are thrilled to be able to invite people to get closer to it and experience it for themselves.   The Forth Road Bridge and the Forth Bridge are symbols of Scottish engineering excellence and a trip to the top of the towers will give visitors an unrivalled opportunity to appreciate the majesty of both bridges like never before.
"The tower top trips are an important part of next year's Forth Bridges Festival, which itself is a key part of the Homecoming Scotland 2014 programme.  Revenue raised from the sale of tickets will go directly towards funding a range of free events in the Forth Bridges Festival programme.  This means everyone can join in the celebrations and we look forward to welcoming the world for this very special occasion."
Caroline Packman, Homecoming Scotland 2014 Director, added:- "Homecoming Scotland 2014 will place the spotlight on our greatest assets, and what better way to celebrate this special year than to take in the view, standing at the top of one of Scotland's best-loved icons.  This will be an unforgettable experience for those lucky enough to get the chance."
The tickets will go on sale on Wednesday 30 October at 1pm, through the Forth Bridges Festival website.  Customers may purchase up to 12 tickets per transaction.  Trips will take place on selected Saturdays and Sundays between 19 July and 23 August 2014, with morning or afternoon choices available.
The tower top trips have been scheduled during the summer months in order to minimise the possibility of poor weather.  However, in the unlikely event that trips have to be cancelled due to high winds, ticket-holders will be offered a full refund.
The Forth Bridges Festival will take place from 4 – 13 September 2014 with a full programme of events to suit everyone.
Full details and the programme can be found on www.forthbridgesfestival.com