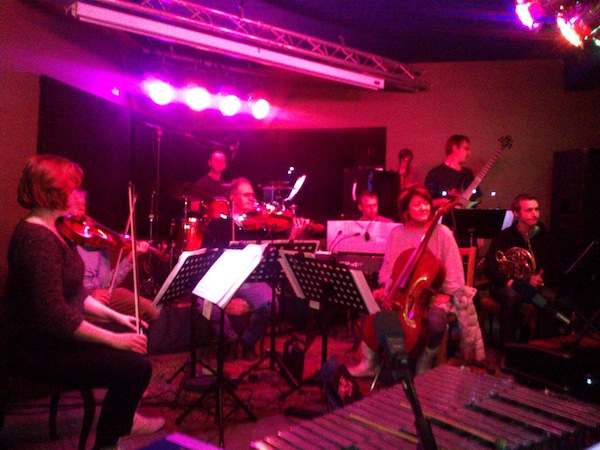 There was a good chance that very few of the audience had ever been in an underground Edinburgh rock venue before – as, I'm ashamed to admit, was the case with me. But the Liquid Room was, in theory at least, the ideal venue for contemporary music group Mr McFall's Chamber's high-energy Freak Out gig of (mostly) American music, combining classical-influenced rock from Frank Zappa and Captain Beefheart with rock- or jazz-influenced classical pieces by modern US composers John Adams and George Crumb.
It was the ideal venue in theory – in practice, the bar's ice machine made a distracting clanking sound throughout much of the performance, and the informal buzz of chat didn't help the music that required closer listening. But no matter – this wasn't a classical concert, and it still made for a thrillingly innovative evening that brought together some blistering performances.
The most blistering of which was horn player Alec Frank-Gemmill's account of George Crumb's An Idyll for the Misbegotten, which saw him howling and whooping with his instrument against a backdrop of thundering drums and tick-tocking woodblocks. The setting was far from the moonlit lakeside August evening that the composer suggests, but it still made a potent, theatrical impact.
The Captain Beefheart and Frank Zappa numbers brought a mini-orchestra on stage, and they were played with tight rhythms and a real sense of wit – the conductorless players attacked the music with vigour, relishing its twists and turns and sudden changes of gear.
Most impressive, though, were the two new pieces that the group had commissioned for the Freak Out tour from UK musicians. Paul Harrison's The Dust Blows Forward made extensive use of Beefheart samples in some wacky fast music, and had an intriguing string chorale in its slower movements.
Martin Kershaw's glorious Far Vistas was inspired by the scenery of Caithness, which he evoked in stereophonic xylophones chattering in Reichian counterpoint, against soft, mellow harmonies in strings and horn. Kershaw dared to be simple and direct, and the music was all the stronger for that – and it would be hard to imagine a more incisive, vivid performance.
Mr McFall's Chamber's Freak Out tour concludes tonight at the Brunton Theatre, Musselburgh