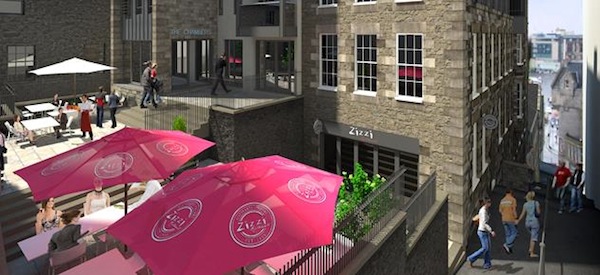 Edinburgh's newest Zizzi's opened last month in the capital's old town, and was the first restaurant opened by the chain in Edinburgh for the past seven years. The newest addition to their Edinburgh collection is at Roxburgh Court in the heart of the Old Town and the newly decorated interior and exterior complement the history of the 'Close' wonderfully.
When you walk into Zizzi's at Roxburgh Court it does not feel like walking into a chain restaurant at all. The mismatched decor gives a cool 'lived in' look which made the whole dining experience a relaxed one with a funky edge. The modern open kitchen, exposed brickwork and trendy art by Amy Murray are an absolute juxtapose with the historic walls of the World Heritage Site building but it really works. At the back of the restaurant the windows boast picture perfect views across to Princes Street – perfect for tourists visiting the capital (and locals who know the best places to enjoy Edinburgh's historic skyline).
This Zizzi's is also unique to the others in the capital as it has a walled garden, which is great for some al fresco dining at this time of year and the perfect place to grab a pizza and spritzer during this week's forecast of piping hot weather!
As well as the slick interiors, the food and wine on offer at Zizzi's was very enjoyable. We chose a crisp Marlborough Sauvignon Blanc with a selection of antipasti, a pizza and a pasta (we ticked all the boxes). The antipasti consisted of the usual cured meats some yummy calamari and a couple of delicious garlic bread slices with caramelised balsamic onions which was a different twist.
For main course we ordered the Rustica Mare E Monti, a split half and half pizza of king prawns and fiery sausage on an authentic crusty thin base, which was like having two meals in one! Mmm. (see the diet has  been ignored again! Ed.) We also had the Linguine ai Gamberi, a luxurious pasta of king prawns, hot roquito chilli and lobster sauce – which is a perfect choice for seafood lovers.
Finally we had a trio of puddings including a chocolate torte, lemon torte and tiramisu. The lemon torte was fantastic and just right for a sweet summer evening treat.
If you fancy trying this fab little Italian don't think of it as a chain as it really does feel unique.
Zizzi's 1 Roxburgh Court, Off Mary Kings Close 0131 226 2661
The Edinburgh Reporter food reviewer, Holly Jones, is a partner in The Lifestyle Company Scotland  You can follow the company and their lifestyle tips on Twitter