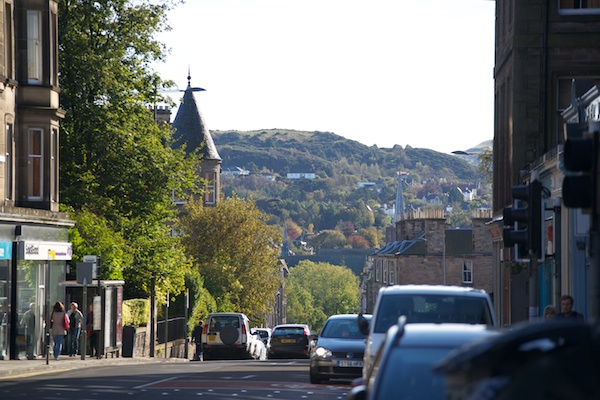 Edinburgh Parks are green – The Nice Way Code – Sarah Boyack MSP holding event about payday loans- Today at North Edinburgh Arts – Edinburgh Festival Fringe pick of the day
An array of public gardens in Edinburgh are flying the flag after winning national environmental awards.
A total of 24 parks in the Capital have gained the prestigious Green Flag for Parks' Awards – half of all the flags awarded in Scotland – in 2013.
The Green Flag Award scheme is the benchmark national standard for parks and green spaces in the UK. Keep Scotland Beautiful delivers the scheme in Scotland.
Transport and Environment Convener for the City of Edinburgh Council, Councillor Lesley Hinds said:- "It is wonderful that once again the parks of Edinburgh have been honoured by these national awards. Winning Green Flags for Parks' awards for another year is a wonderful achievement.
"Our beautiful green spaces are managed and maintained by an excellent team who work hard to create attractive and peaceful spots for visitors and locals to enjoy. Their efforts have been rewarded and I would like to offer my congratulations to everyone involved.
"We will keep up the momentum by working with organisations such as Keep Scotland Beautiful to protect and develop our parks and gardens."
Carole Noble, Head of Environmental Services at Keep Scotland Beautiful said: "This is a real success story for Edinburgh, with a record 26 parks receiving the Green Flag for Parks Award for 2013. This represents over half of all the awarded parks in Scotland. The city should be very proud of its achievement.
"The hard work of the local authority, which manages the vast majority of the awarded parks, Heriot Watt University, Friends of Corstorphine Hill and the hundreds of volunteers who keep Edinburgh's parks beautiful, is clearly paying off."
***

The Nice Way Code has crept in by stealth over social media channels in recent days although the TV advertising campaign is not due to start until 5 August 2013. This apparently encourages all road users to be nice and considerate to each other. The organisers admit it may not work on its own:-"We're not under the impression the Nice Way Code is going to make the roads a wonderful place free of accidents or road rage overnight. It's intended as the start of a conversation about how we treat our fellow roads users. It is there to support infrastructure and enforcement measures."
The Transport Minister Keith Brown MSP has endorsed it by sanctioning funding from Transport Scotland along with endorsement from Cycling Scotland and the Institute of Advanced Motorists, Sustrans, Paths for All and the AA. There is a website here, you can follow the initiative on Twitter and on Facebook.
All that is missing then is the code itself.
Since we have not yet seen what it says we cannot comment in any meaningul way, but we are repeating for you here the comment from Pedal on Parliament who have organised two cycling demonstrations in Edinburgh to highlight the need for better cycling infrastructure throughout Scotland.
Pedal on Parliament (POP) is disappointed by the latest government sponsored campaign 'Nice Way Code'. This year, 4000 people cycled to the Scottish Parliament in support of the POP manifesto, which among other things calls for a 'step change' in funding for cycling infrastructure. Research shows that the most effective means to reduce road deaths are changes to the road environment and lower speeds. Education campaigns, especially where not backed up by visible enforcement, do very little.  Spending nearly £500,000 asking drivers, cyclists and pedestrians all to be nicer to one another offers poor value for money on its own. Coming on top of the Scottish government's last education campaign 'Give me Cycle Space', which did little to reassure parents that their children would be safe on Scotland's roads, this "words rather than actions" approach demonstrates  the government's lack of commitment to saving the lives of cyclists and other vulnerable road users. It is particularly urgent in light of five years of rising cycling deaths, with nine cyclists already killed in 2013; the same total as the whole of 2012 with five months of the year still to go. In 2009 the total was just four.

Sally Hinchcliffe, one of the organisers of POP, commented ' While we don't disagree that behaviour needs to improve between road users, simply asking us all to be nice to one another without backing it up with real changes and enforcement is a waste of taxpayers' money. Most drivers don't set out to harm anyone, whether they're cyclists or not.  It's the way our roads are designed and policed that put drivers and people on bikes into conflict. We'd rather see that money spent on cutting speeds, or improving known accident black spots. It's a drop in the ocean, but it would be a start.'

David Brennan, another of the POP organisers added, 'The government is keen to encourage more people on their bikes, and yet they are putting no effort into making the roads safer for these prospective new cyclists.  I know of no country in the world where cycling has become safer and more common place through advertising alone. There are however, many examples of countries with excellent road safety records for all road users where they have invested in cycling infrastructure.  With the government pushing on with a number of very expensive road projects with billion pound price tags, is it too much to ask for £100m a year to be spent on saving cyclists lives and on investing in a healthier more environmentally friendly Scotland?'
***
Lothian MSP Sarah Boyack is hosting a free event to help constituents worried about payday loans and debt.
In June the Office of Fair Trading referred the payday lending market to the Competition Commission amid ongoing concerns that firms are offering unaffordable loans to vulnerable people with limited access to other forms of credit.
The event will offer a range of advice on coping with debt along with information on alternatives to payday loans.   On the day representatives from Citizens Advice Edinburgh's Gorgie Dalry Bureau, the Money Advice Service, Shelter Scotland and Capital Credit Union will be on hand to speak to local people.
The event will take place on Friday 2 August from 12:30 – 2:30pm at the Gorgie War Memorial Hall, 338 Gorgie Road. The session will be run on a drop-in basis and no appointment is necessary.
Speaking ahead of the event, Sarah Boyack MSP said:- "Over the last few years, the number of organisations offering payday loans has expanded rapidly.
"People are taking out these loans to pay for the basics like energy bills and rent and outrageous interest rates make it easy for debt to quickly spiral out of control.
"I have organised this surgery to give people information on affordable alternatives to payday lenders and to provide advice to those who are struggling with debt.  I hope that constituents who are worried about debt will come along or get in touch."
Barbara Swann, Manager of the Citizens Advice Edinburgh Gorgie Dalry Bureau said:- "We are delighted to take part in this surgery which seeks to offer practical advice and support to local residents. We can help – whether you are looking for information on how to make ends meet without resorting to high interest loans or help in dealing with existing debts – come along and speak with our friendly advisers in complete confidence."
Lisa Bayley of Capital Credit Union said:- "Come visit our stand to find out more about saving and borrowing from an ethical, fair, not-for-profit organisation."
Gordon MacRae, Head of Communications and Policy at Shelter Scotland, said:- "A growing number of families are living on a knife edge, with only a couple of pay-cheques standing between them and major financial difficulty.
"Many of them feel they have little choice but to take out a payday loan to support their families. But it's far from a solution. All such loans do is make the problem much worse in the long run.
"We urge anyone who is experiencing problems in paying their bills to seek advice sooner rather than later by coming along to the free event on Friday 2 August, or by calling our free national helpline on 0808 800 4444 or visiting our website shelterscotland.org."
***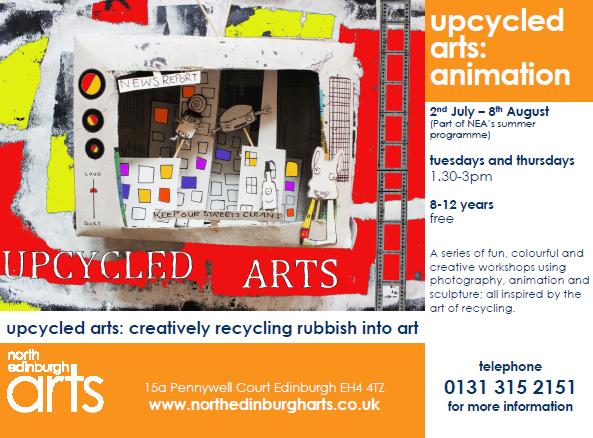 Today at North Edinburgh Arts Centre:-
Upcycled Arts: Animation has started with an exciting programme of activities. Meeting every Tuesday and Thursday 3 to 4.30pm this workshop offers something for everyone including photography, sculpture, animation and arts & crafts. These sessions will be running until Thursday 8th August with places still available. If you would like to attend please contact Box Office on 0131 315 2151.
North Edinburgh Arts Centre is located next to Muirhouse Library, behind the Muirhouse Shopping Centre on Pennywell Rd.
***
Satirical chanteuse, Melinda Hughes, introduces her satirical cabaret group Kiss & Tell to the 2013 Edinburgh Fringe Festival. Arriving with a host of brand new songs, the run of performances promises to be an outrageously entertaining show. Written by Melinda Hughes with composer Jeremy Limb and writer Lloyd Evans, 'French Kiss' will be performed by Hughes, accompanied by Andy Tolman on double bass and Jamie Fisher on drums, with Jeremy Limb on the piano.
This risqué cabaret show at Edinburgh Fringe Festival 2013 airs Hughes' opinions on the recession, the Euro-zone, recycling and French émigrés in London, through a parodied musical of the upper class. Her skewed perspective of Anglo-French relations, matched with her sensual showcase, ensures that the evening will fully engross all involved.
Melinda Hughes leads this salacious cabaret show and has a noteworthy past to her career. The daughter of film director Ken Hughes, Melinda was born and raised in London, Hughes studied at The Maastricht Conservatory followed by a postgraduate from the Royal College of Music London and then going on to complete her studies at Brussels Opera Studio. Since her career began, Hughes has sung in more than 40 countries. Her previous opera roles have included Ciocio San in Madame Butterfly, Mimi in La Boheme, The Countess in the Marriage of Figaro, Fiordiligi in Così fan Tutte and she has an extensive German Operetta repertoire having toured for three years as Andre Rieu's soloist.
As well as being a firmly established Opera Singer, Hughes is also in high demand as a recitalist and has performed at Auditorio Nacional Madrid, St Martins in the Fields, St John's Smith Square and The Concertgebouw, Amsterdam. Melinda's voice was also interestingly used in the Rugby Six Nations League theme tune and was part of Rankin & Sky Arts Street Campaign in 2011.
Her new album Smoke and Noise (Nimbus) features songs by 1930's composer Spolianksy and her tongue-in-cheek group Kiss & Tell cabaret. It has already received rave reviews in the UK and US. Along with opera performances and recitals, Melinda has previously performed her satirical cabaret with her co-writer Jeremy Limb at The Hay Literary Festival, Cadogan Hall, Pizza on the Park, The Pheasantry and has appeared with Barry Humphries on Radio 4. Kiss & Tell will be hosted by theSpace@Surgeons Hall, Theatre 1 (Venue 53) 2-10 August (not 4th) 2013, comprising a sizzling fifty-minute show at the Edinburgh Fringe Festival 2013.
French Kiss
Written by Melinda Hughes, Jeremy Limb & Lloyd Evans. Directed by Daniel Slater
theSpace @ Surgeons Hall, Theatre 1 (Venue 53), Nicolson Street, EH8 9DW