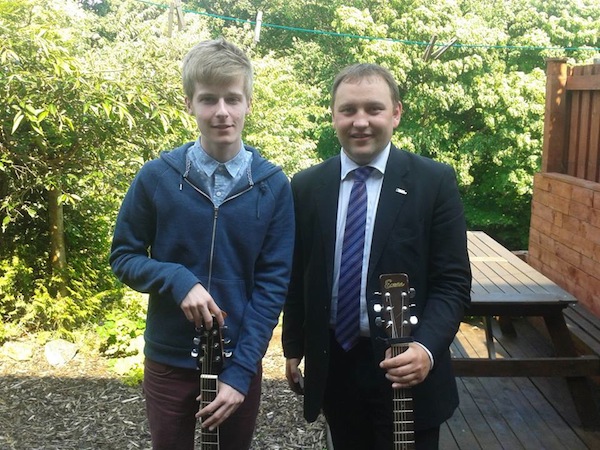 Edinburgh South MP Ian Murray joined local Liberton resident, Daniel Scott, in celebrating his success in Parliament's biggest competition, Rock the House 2013.  Rock the House was set up to raise awareness of intellectual property theft and live music issues in Parliament through a nationwide competition to find the best solo act, band, venue and music video UK talent has to offer.  Ian Murray nominated Daniel for the under 19 solo category and despite hundreds of entries Daniel was named as a finalist having got down to the final three.
The competition received over 1000 entries covering over 430 MP constituencies.  MPs selected their favourite act from each category and the finalists were selected from a judging panel made of international music industry experts.
On being selected for the live final, Daniel Scott said:- "Being picked for this competition was very unexpected and overwhelming.  It's really exciting for me as a budding musician to have an opportunity like this to showcase myself, especially with the prize of playing live at the Houses of Parliament.  Also going to the historic Abbey Road Studio as part of the finals was a real treat."
Ian Murray said:- "As soon as I heard Daniel's demo I had no hesitation in nominating him for the solo under 19s award.  Daniel is a very talented singer and musician and he should be very proud of his achievement in reaching the final of a nationwide competition like Rock the House.  Hopefully this opportunity will give his music greater exposure and I'm sure this will not be the last we hear of him. He may even teach me how to play the guitar?"
The Edinburgh Reporter stopped to listen to Daniel when he was busking on the weekend of the Meadows Festival. As you can see in this clip he really can play the guitar – and sing!
You can follow Daniel Scott on his website, Soundcloud, Facebook and YouTube!
This is Daniel's own latest video here