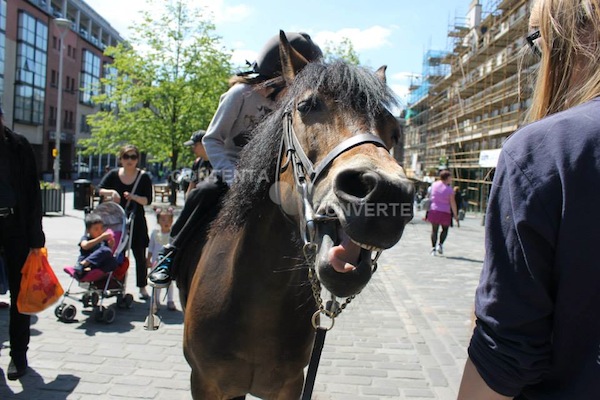 The Grassmarket was home to a fun-filled day of free pony rides to launch the area's summer season of markets, events and fun days, and what a scorcher it was!
Dozens of families lined up for a free Shetland Pony Ride, with excited children and proud parents meeting Flame and Pumpkin, the Welsh B and Shetland ponies visiting.
Families from Edinburgh, Manchester, London as well as visitors from India and the USA were amongst those involved, and it seems Pumpkin and Flame enjoyed the day as well, exploring the historic area with their riders.
The two well-behaved ponies will be long remembered by families and events like this are seen as a positive addition by many local business owners. Matthew, Petit Paris Restaurant, acknowledges that the Grassmarket and surrounding areas needs more events and activities to attract visitors to spend their time exploring the unique area. 'It's great for the local business to see events that increase the footfall in the area,' he says.
This is the first of a selection of events and activities being brought to the area for Summer 2013 supported by the Greater Grassmarket Business Improvement District, including the Edinburgh Jazz & Blues Festival Mardi Gras, fringe events, regular markets and family fun days.
You can find full information about upcoming events on 
www.grassmarket.net
 with the Greater Grassmarket BID looking to work with businesses, residents, festivals and local groups to bring a full range of activities to the area each season.