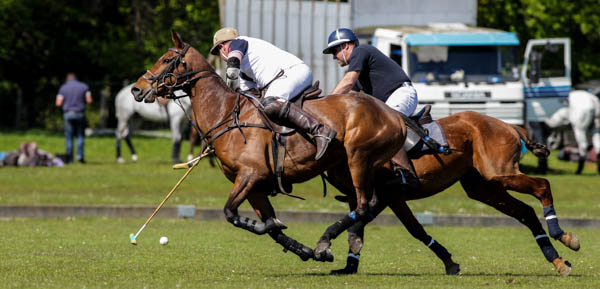 Edinburgh Polo Club Spring Tournament, Day 1.

Spring finally seemed to have arrived at the weekend as Edinburgh Polo Club held their Spring Tournament at Dalmahoy on the outskirts of Edinburgh. With a wide variety of skills available from the limited numbers of players on the Scottish Polo scene, it takes a fair bit of wrangling to come up with more or less even teams, with some of the better players sometimes doubling up to inject a bit of skill, coaching and encouragement to their lesser skilled team-mates.
First match up on the Saturday was Edinburgh 2 and Piddlesheugh from the Borders. The Edinburgh 2 team, made up of members of Edinburgh Polo Club, took an early two-goal lead in the first chukka, but Piddlesheugh came back and, once they had their noses in front, put on a fine display of attacking polo and so kept ahead to run out 7 1/2 – 3 winners.
Second match was a round-robin. three team, six chukka affair involving Errol Park, Burnfoot and Edinburgh 1. This match was the 'feature' match of the day, with players playing at a higher overall standard, and included a few players with 'positive' handicaps, chief amongst whom was Alistair Archibald, a former Professional on the World circuit.
First two chukkas were between Burnfoot and Edinburgh 1. In a match littered with penalties Burnfoot went ahead early on and finished off the first two-chukka session three goals to nil.
Next 'on court' were Burnfoot and Errol Park to play their two Chukka encounter. This was another fast paced match with play swapping ends quickly, but neither team really gaining the upper hand. Errol Park took the lead here before Burnfoot came back with a penalty to add to their half-goal handicap advantage. Open play was interrupted again with several penalties, but both teams only scored one further goal apiece to give the match to Burnfoot 2 1/2 to 2.
Third and final pair of chukkas was between Errol Park and Edinburgh 1. Edinburgh 1 started with a half-goal advantage on handicap i.e. they were, effectively, the 'less skilled' team, but quickly pressed home their start to score three more. Errol Park pulled one back, but Edinburgh 1 scored another near the end to take a 4 1/2 -1 victory into the Sunday finals.
Final match of the day was another four goal, low-handicap match between Kinross and The Polo Hunks (!). Following a long, goal-less passage of play, Kinross scored first, and followed up a few minutes later with a second. Polo Hunks then scored one of their own, but Kinross held out to eventually take the match 4-2.
With the scores being carried forward, it was all to play for on the Sunday.