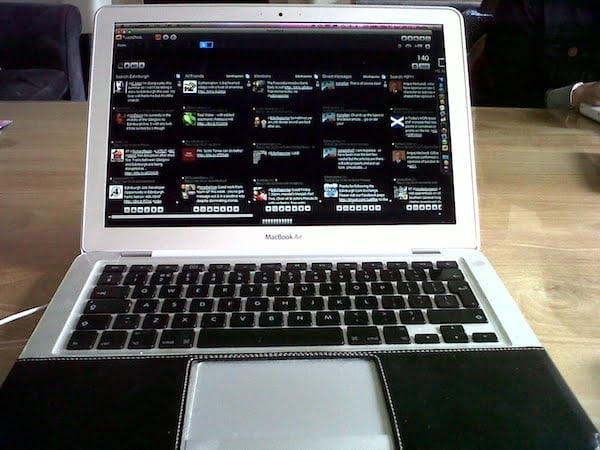 Edinburgh Silver Surfers Subjected to Online Scams
Edinburgh's growing legions of 'silver surfers' are being warned to be vigilant as cyber criminals look to prey on unsuspecting victims with increasingly cunning online scams.  With the numbers of older people using the web and discovering social media channels growing daily, fears are being raised they are becoming the prime targets for internet scammers.
The tricksters are continually concocting scams to fool unsuspecting web users with many of the cons taking place without the victim being aware, ranging from social networking and financial scams to those relating to online employment or auctions. One smartphone/web-based App set up to highlight the explosion of online scams lists more than 600 different online cons.
The latest warning comes from the Scottish Business Crime Centre (SBCC), as part of a new campaign it is fronting to raise awareness of various issues that can place older people at risk of financial harm.
Gary Ritchie, Assistant Director of SBCC, said: "These con men will stop at nothing to shamelessly deceive and swindle internet users out of personal details and money. While many of us have been using the internet for some time and have grown to recognise these types of scam emails, anyone can be caught out as new scams are constantly being designed to trick unwary web surfers into parting with money or personal information.
"The increase in 'silver surfers' using the internet as a way of communicating now means that older people are increasingly exposed to these crimes. Older people in particular are prone to falling for emails that appear legitimate because they look like official emails which appear to be from a well known bank or unsolicited mails where the scammer tells of recent disastrous events which have left them stranded, usually in a foreign country with no money and no passport.
"Sadly these people are frequently conned out of huge sums of money. Crimes against people who perhaps don't have the same capabilities or support to protect themselves as others is appalling and has no place in Scotland."
One of the most prominent online scams is ransomware. This is a category of malicious software which, when run, disables the functionality of a computer in some way. The ransomware program displays a pop-up message demanding payment to restore functionality. The malware, in effect, holds the computer ransom, the pop-up advises law enforcement has locked the computer and suggests that this is a result of the user viewing indecent images or terrorist sites.
These pop-ups use the logos of recognised UK forces, including Action Fraud so victims are easily fooled by this con. Unfortunately, there is no way to avoid this pop-up and given the number of different gangs operating ransomware scams, a conservative estimate is that over £3 million a year is being extorted from victims, however, the real figure is likely to be much higher.
Chief Inspector Ronnie Megaughin at Police Scotland, also chair of the Adults at Risk from Financial Harm Group, said: "There are a number of factors which require to be present for frauds or scams to be successful and the vulnerability of the victim is at the heart of that equation. While anyone can be duped, those who are most vulnerable within our communities are faced with the greatest risk."
He added the Keeping People Safe campaign being managed by the Adults at Risk from Financial Harm Group aims to put in place a range of prevention measures necessary to safeguard individuals and reduce criminal opportunity.
As victims are often too embarrassed to report these various internet crimes, authoritative statistics are hard to establish. However, a recent study by Age UK found almost half of the over 60's questioned said that they had been targeted by a scam last year.
Lindsay Scott, spokesperson for Age Scotland said: "Although today's pensioners may be mentally sharper than ever, they still make a prime target for con artists because they generally have more disposable income and because they're usually more trusting, having grown up at a time when things were taken at face value. It's also true that longer life expectancy has resulted in a growing generation of people in later life who perhaps live alone, are maybe a bit forgetful or simply become confused or frightened by smooth-talking scammers.
"This combination of not remembering correctly and in many cases, particularly involving men, being unwilling to admit there's a problem, can make older adults especially vulnerable to this sort of crime."
A booklet containing information and advice on a variety of scams has been created and produced by The Metropolitan Police Service's Operation Sterling Team and is available to download for free by visiting   http://www.sbcc.org.uk/media/84031/little_book_of_big_scams.pdf
Scam Detector is a smart phone and web-based app available to download for free which exposes more than 600 of the world's most fraudulent scams. http://scam-detector.com/
The SBCC, which aims to work in partnership with various bodies to create a safer Scotland, recently held a conference to establish a blueprint for Scotland's private and public sectors and voluntary organisations to collaborate consistently and effectively to protect those who may be subjected to financial abuse by others.
The organisation is currently forming a strategic multi agency steering group to provide further advice, guidance and protection around those who are seen as vulnerable in this way through information exchange and early intervention including the development of a Scotland against Scams initiative. The group will also consider how to tackle e-related scams and postal scams as part of their ongoing work.
This steering group will consist of representatives from the Scottish Government, Social Work Department, Trading Standards, police, banks, energy and utility companies as well as a variety of other interested organisations.
More information about the Scottish Business Crime Centre and how to become a member can be found at www.sbcc.org.uk.