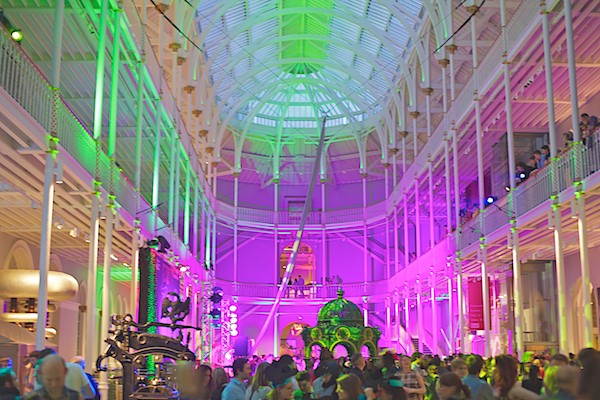 Since the refurbishment of the National Museum of Scotland, the curators have looked for innovative ways to open the doors to customers of all ages. Tonight it was the over-18s who got the run of the galleries for Dino Night, in the series of RBS Lates.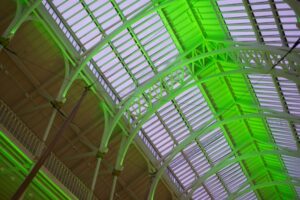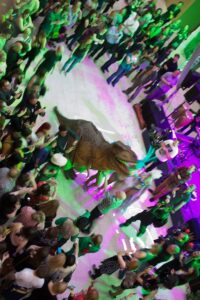 This is a taster of what is still to come this summer with Jurassic June set to educate us all about prehistoric animals.
There was a big queue to enter the building first of all, but as soon as we did get in there was plenty of room to move around, although other lengthy lines at the very elegant face painting and mask-making did put us off.
Instead we were happy to wander round having peace to look at some of the exhibits, get our photos taken in the spaceman suit without fear of some sniggering teenager creeping up on us, and taking in the sights and sounds. We were also able to be suitably silly in the silent disco, trying to guess what everyone else was listening to.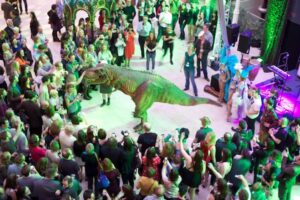 Tyrone Rex made his appearance along with what appeared to be his tamer…
The Miniature Dinosaurs were making big with the music on the stage, and the disco was otherwise giving it laldy. The light show which accompanied it made the whole place quite magical.
Disappointed with the food offering on the main floor (£5 for 2 chicken nuggets and 16 cold chips is a rip-off in anyone's opinion and certainly in mine), we opted for the Brasserie on the ground floor to the right of the entrance.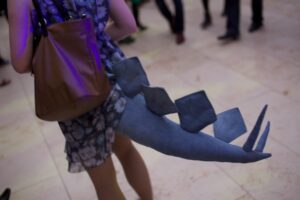 The staff there were lovely and the food divine. Suitably aged steak and burgers were on offer, and were delicious. The mini sundae was made to order with a choice of sauce and topping, and was a steal at £2.
All in all our night at the museum rocked! But as you can see from our photo some people were better prepared than others……