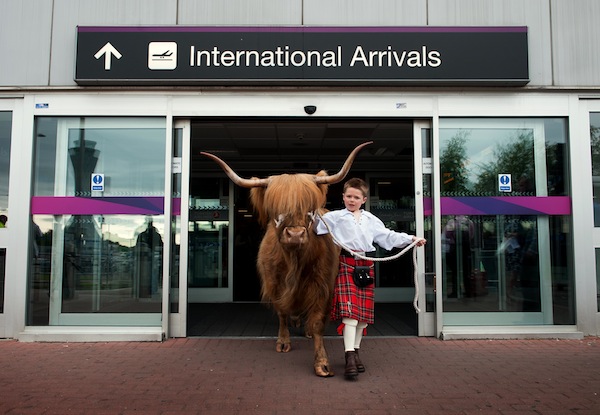 EDINBURGH AIRPORT ARRIVALS GIVEN A PROPER HIGHLAND WELCOME
Travellers arriving at Edinburgh Airport today, were 'moooved' by the warmth of the welcome – Suzie the Highland Cow from Pollok Country Park was at international arrivals to greet the many hundreds of visitors arriving in Edinburgh ahead of this year's Royal Highland Show.
Taking place from 20-23 June, the annual four-day event attracts in the region of 160,000 visitors each year.
Edinburgh Airport and The Royal Highland Centre have been working together to ensure that visitors to the show, and to Edinburgh, have the best possible experience.
Predicted visitor numbers already look great with advance ticket sales up on last year thanks, in part, to the introduction of a print at home ticketing system launched this year.
Show manager, Becky Elvin said:- "The Royal Highland Show is a hugely important platform for the Scottish food and drink and agriculture industry. We are looking forward to continuing our work with Edinburgh Airport in welcoming our domestic and international visitors. We hope to give them the best experience possible and showcase all that the Royal Highland Show has to offer.
"Our good relationship with Edinburgh Airport is vital and we were delighted to see so many passengers enjoy the pre-show spectacle.
"Traffic planning during the four days has been a significant focus over the last 12 months, however we are satisfied that come rain or shine; the show will live up to its Greatest Show on Earth billing. Strengthened public transport links, enhanced parking at the RBS Headquarters on the Saturday and Sunday and increased traffic personnel on the ground will make it a more manageable process."
Adding to this is, Gordon Dewar, the airport's Chief Executive, said: "We're committed to providing our customers with the best experience possible and the success of both organisations is dependent on this. We are all looking forward to a great show and we are pleased to give our passengers a proper Highland welcome.
"Following last year's show we have worked hard to ensure the airport and showground remain fully accessible to visitors and passengers.
"We would advise anyone travelling to the airport to allow plenty of time as routes will be busy and with the one thing we can't control being the good old Scottish weather, we would also encourage you to bring a brolly."
Alongside Suzie was Highland Show expert, Cameron Cormack, 10, who has been attending the show since he was just a year old. Cameron, a young handler who attends Berwick Middle School was delighted to be part of the launch activity.
"The Highland Show is my favourite. We come for the week to show our beef and dairy cattle and always have lots of fun in the cattle lines. I love going to the toy stalls too because if we do well Mum and Dad promise to buy me a toy tractor. My most favourite thing is helping my dad get the cattle ready for the show ring – I always want him to take a cow and calf so that I can lead the calf!"
Cameron will be the fourth generation on both sides of his family to show cattle at the show.
Show tickets are priced at £25 per adult with children under 16 attending for free. For further information and advanced early-bird offers, visit www.royalhighlandshow.org