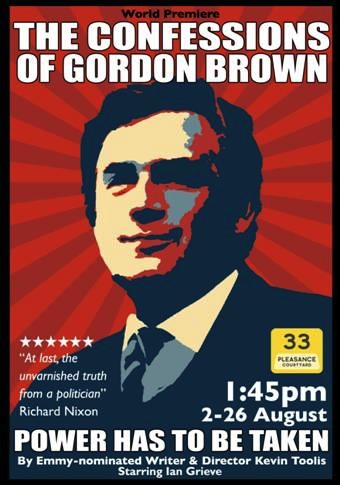 The directors of manyrivers productions are proud to announce the world premiere of
The Confessions of Gordon Brown at the 2013 Edinburgh Fringe Festival 31 July – 26 August 2013, The Pleasance Courtyard (13:45)
In a candid portrait of life inside Downing Street, Gordon Brown hilariously exposes the darkest secrets of being Prime Minister, the stab-in-the-back plottings, the betrayals and most importantly –  the hair gel.
Love him or loathe him, Gordon Brown was our greatest failure at being Prime Minister in 200 years.   In this searing satire of the hidden arts of modern political leadership Gordon at last reveals what it takes to knife your way to the top and rule a nation, and how his dream of power ran awry.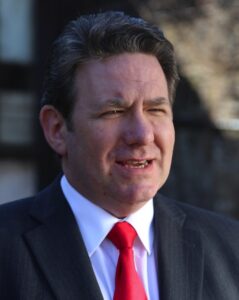 Starring Ian Grieve as Gordon Brown in a brand new one-man play by acclaimed Emmy nominated Scots writer and director Kevin Toolis.
ABOUT THE PRODUCTION:
Uniquely based on extensive interview research within Gordon Brown's close leadership circle, The Confessions of Gordon Brown chronicles the motivations, the moods and the psychological flaws of the last great thrawn King of New Labour.
Even three years after Gordon Brown's fall, the reasons why this superbly capable, moral man failed so badly in the office of Prime Minister are of burning political relevance as both the Scottish independence referendum and the next UK general election loom.
Brown failed to convince the British people that he should be their leader.  And The Confessions' poetic passages explore and reflect on that ancient role and the inevitable divisions between the Leader and Led.
Who we choose to rule over us is a question we cannot ignore. Ultimately, Scottish independence too will also be decided not by conflicting economic arguments but on faith in the leadership of Alex Salmond. Kingship does matter.
The Confessions of Gordon Brown is produced by Many Rivers Productions Ltd., and written and directed by Kevin Toolis. Gordon Brown will be played by Ian Grieve.
 The Confessions of Gordon Brown is a work of satire and fiction.