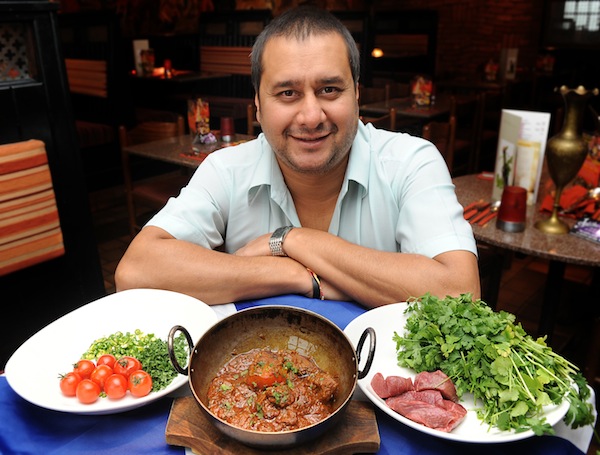 Scottish curry king Sanjay Majhu has unveiled his latest business venture with the opening of a new World Buffet concept restaurant in the Capital.
Following his success on the west coast, the restaurateur, who owns Europe's largest Indian restaurant chain, Ashoka, has unveiled his new concept restaurant on Hanover Street, Edinburgh. The leading businessman – who purchased Harlequin Group in an £8 million acquisition deal from Charan Gill in 2005 – said the new restaurant could spell further expansion across the east coast.
Sanjay said:- "Ashoka World Buffet restaurant on Hanover Street is our first venture into the Capital and our East Coast expansion has definitely whet our appetite for further growth throughout Scotland."
In partnership with his wife, leading Indian author and chef, Jiggy Majhu, Sanjay has diversified the Ashoka's offering beyond its traditional Indian restaurant roots.
He added:- "Despite the difficult economic climate we're confident this is the right time to grow the business beyond our current locations. Diners are eating out less frequently so in line with the changing requirements of our customers we have developed into an exciting new area.
"From a business standpoint it is massively important for brands to diversify their offering in the current climate. The Ashoka World Buffet concept, which incorporates our much loved Indian favourites with speciality Italian and Chinese dishes under a set price buffet menu, is very much at the forefront of the new Ashoka and has gone down well with diners across the country.
"The new restaurant in Edinburgh is our pilot in the city. We've used it as a test bed to check what appetite the Capital has for Ashoka. The restaurant has been open for two months and it is early days but it has been very well received.
"In this economy people are looking for three key things when they dine out – excellent food, fantastic service and value for money. This is the premise of our business and the three pillars we have built the Ashoka empire on. I'm looking forward to making as much of an impact with Ashoka in the east as we have in the west."