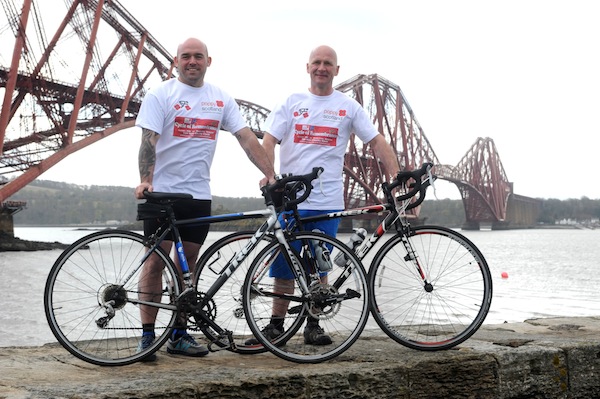 FIFE PAIR IN 750-MILE CYCLE TO MENIN GATE TO RAISE FUNDS FOR POPPYSCOTLAND
Two Fife men will be undertaking a mammoth six-day challenge, the Cycle of Remembrance, cycling 750 miles from their hometown of Leven to the Menin Gate in Belgium to raise funds for veterans' charity Poppyscotland, and will pass through Edinburgh on the way.
Big-hearted Sandy Cunningham (45) and Thomas Bremner (40) will set off from Sainsbury's in Leven on 29th June, arriving at the famous Menin Gate in Ypres, Belgium, on 4th July. On the evening of 5th July they will lay a wreath at the memorial and take part in the poignant Last Post ceremony.
Sandy and Thomas, aka The Flying Fifers, have raised over £5,000 for Poppyscotland through their JustGiving sponsorship page so far and, with two months to go, they want to bring in even more.
Ex-Serviceman Thomas, who served in the Royal Corps of Signals for nine years and now works for Bremner Builders, said: "We are overwhelmed by the support we have received already from people donating or giving their time and services to help. Poppyscotland is a cause close to our hearts and we want to raise as much money as possible to give something back in memory of those who made the ultimate sacrifice during two horrible World Wars and to help the men and women of the Armed Forces who need support now from Poppyscotland."
Sandy, who works for Scottish Water, has another special reason for raising funds for Poppyscotland. He explained: "When I joined the water board in 1984 on a Youth Training Scheme my boss was Tam Lorimer from Cupar. He trained me and encouraged me to stick in to get a full time job when unemployment was high. He was a pipe corporal in the Royal Scots Greys and through his mentoring at work I turned out the way I did and for that I will always be grateful."
After Tam passed away from Motor Neurone Disease Sandy and Thomas took part in a fundraising half marathon in his memory and since then they have raised thousands of pounds for different charities.
The money raised through the Cycle of Remembrance will be used to support Poppyscotland's work in delivering vital services to the Armed Forces community living in Scotland. Poppyscotland needs to raise funds all year round to supports thousands of veterans and their families every year through immediate financial assistance to individuals, retraining grants, advice and employment services, as well as funding for specialist services such as care, employment, housing and mental health.
Poppyscotland Events Fundraiser Alice Fisher said: "Sandy and Thomas are incredible individuals and we are very grateful to them for undertaking this massive challenge on behalf of Poppyscotland. The money that they raise really will make a difference to the lives of Scotland's most vulnerable veterans and their families and we wish them every success."
Sandy and Thomas began a gruelling training regime seven months ago. Starting on old mountain bikes they struggled to do 20 miles a day but after purchasing racing bikes the miles soon increased to more than 100 a day.  As well as training on wheels, they have completed four half marathons.
The duo have created a striking banner and have produced special poppy branded cycling tops, to raise awareness and thank their supporters and sponsors. They will be setting off from Sainsbury's in Leven on the morning of their departure, with the supermarket donating food for the journey. There will also be an instore collection the week before to boost their fundraising.
Donations can be made at www.justgiving.com/cycleofremembrance  or by texting BMDF68 followed by the amount to 70070.