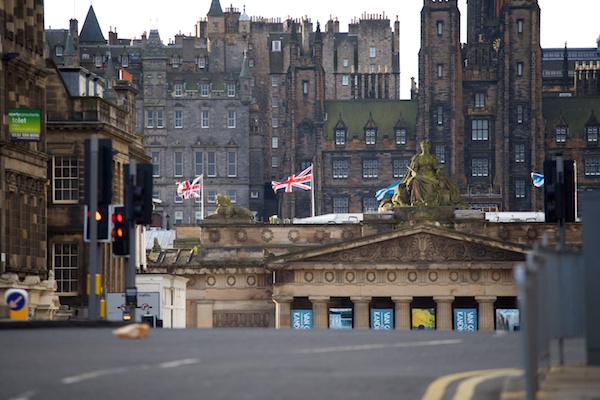 Beekeeping with a purpose – Helping the National Trust for Scotland – At the Portrait Gallery today – Stockbridge Market – Council get award for office development
Today's Scotland on Sunday reports that Edinburgh restaurant owner, Victor Contini, wants to keep bees on the roof of the National Galleries. He would be in good company as Her Majesty the Queen keeps bees in Regent Street in London where the hives are on the rooftops too.
It was in 2009 that The Crown Estates installed the beehives.  As part of a pilot scheme to encourage biodiversity there is a hive housing 7,000 honey bees, so while shoppers below visit Regent Street the bees go about their daily business of producing honey.
David Shaw, Head of Regent Street Portfolio at The Crown Estate said at the time:- "Regent Street is pleased to offer the bees space in London's premier international destination – all we ask in return is some jars of quality Regent Street honey."
"The honey bees have settled in well on the roof above Regent Street. They are being fed with sugar-syrup solution to build up the strength of the worker bees.
"The colony is quite small by bee standards. The brood box where the queen lives is helping the colony to build up numbers so that in a few weeks time a super (another box over the top of the brood box) can be added. The colony of bees have multiplied and have started producing honey.
"The bees are enthusiastically collecting pollen from the small garden near the hive which has a mixture of lavender, origanum, nepeta, thyme, sedums, salvia uliginosa and verbena bonariensis which adds flavour to the honey."
In these days of declining bee populations across the world,  this has to be a great plan to try and redress the balance, and give us our very own Edinburgh honey.
The Scottish Wildlife Trust has been calling on both the UK and Scottish Governments to ban the neurotoxic chemicals since Autumn 2012, and so far it is only the UK Government who have taken steps in that direction.
Scottish Wildlife Trust Chief Executive Simon Milne said:
"The UK Government must now wake up to the fact that the only responsible course of action is to follow the advice of its Environmental Audit Committee and place an immediate moratorium on the use of these chemicals. There is sufficient and compelling evidence to apply the precautionary principle; we believe that waiting for the results of yet more field trials is pure obfuscation by Defra.
"Up to now the Scottish Government has sided with Westminster's ill informed view, even though a growing amount of scientific evidence shows that these insecticides affect bees' foraging behaviour, damage bee brain function and can persist for years in soils. Perhaps even more alarmingly we have yet to assess their impact on the rest of the food chain, so we call on the Scottish Government to do the right thing for our bees, our countryside, and our farmers who rely on natural pollination – impose a ban now."
***
You can do your bit to help the National Trust for Scotland (NTS) by donating your old walking boots.
Do you have an old pair of walking boots that are destined for the bin?
Send them to NTS via FREEPOST to give them a new lease of life and you'll be helping to support the Trust's mountain conservation work.
A spokesman said:-"We're creating a bespoke outdoor advert in Edinburgh in June promoting mountain conservation. Ninety pairs of boots will be nailed to a huge billboard, alongside a message encouraging commuters to support the Trust's countryside.
"Part of the One Wee Step campaign which launched in 2012, this new outdoor advert is the latest to highlight the fact that the Trust cares for 76,000 ha of some of the wildest and most spectacular countryside in Scotland, encompassing 46 Munro mountains, 424 km of mountain footpaths, seven National Nature Reserves, 45 Sites of Special Scientific Interest, the UK's only natural and cultural World Heritage Site (St Kilda), over 400 islands and islets, Scotland's first voluntary marine reserve and the nest sites of over one million breeding seabirds."
Send your boots (FOR FREE) to the following address, before Friday 26 April:
FREEPOST RSLA-XEHR-BJHJ
National Trust for Scotland
5 Cultins Road
Edinburgh
EH11 4DF
Campaign Manager Amy Gunn said:
"We want your old boots to help us spread the message about our mountain and countryside work. Instead of binning your boots, send them to the Trust, freepost and play your part in helping to conserve some of Scotland's most iconic mountain landscapes, including Glencoe, Torridon and Goatfell."
Donors will get a special thank you at www.oneweestep.com and a credit in a short film that will be made of the billboard's installation.  One Wee Step is supported by broadcaster and mountaineer Cameron McNeish.
***
Today at the Scottish National Portrait Gallery you can see a collection of Annie Lennox outfits, including a dress specially made for her when she was 7 months pregnant.
The House of Annie Lennox, curated in partnership with The V&A, London, brings together an array of stunning photographs, iconic videos, and a dazzling selection of costumes, which chart Annie's unique career from its early beginnings, through her time in The Tourists and Eurythmics, as well as her hugely successful solo career, to the present. The show also includes two photographic portraits of the artist from the Gallery's permanent collection.
The range of work on show illustrates just how significant Annie Lennox is to the history of popular music and culture. The costumes in particular demonstrate the diversity of her style and her distinct command over identity and performance – from the androgynous two-piece leather suit worn during the Eurythmics 1980s Revenge tour, to the cabaret chic costume featured in the video for Little Bird, which was taken from the chart-topping 1992 solo album Diva. Another highlight is the striking outfit she donned for her show-stopping performance of the song Under Pressure with David Bowie at the Freddy Mercury Tribute Concert of the same year.
The House of Annie Lennox continues a theme in the Scottish National Portrait Gallery's recent exhibition programme, focused on impressive, strong and socially or politically engaged women. As a musical artist Annie Lennox has brought joy and inspiration to millions of people, and as humanitarian campaigner she has championed socio-political issues, such as the plight of women and children affected by AIDS.
Commenting on exhibition, Annie Lennox, said:- 'It's an incredible honour and privilege to have been given an opportunity to share and display aspects of my life's work at the Scottish National Portrait Gallery. It has given me a tremendous sense of validation, and in doing so, brings a certain personal cycle to a place of arrival and completion. I hope that people will enjoy the exhibition, and garner a sense of whatever it is that's driven and inspired me.'
Director of the Scottish National Portrait Gallery, Christopher Baker, said:- 'We are so thrilled to be showcasing the career of such a distinguished Scottish song writer, performer and humanitarian campaigner. The exhibition is in essence a remarkable self-portrait, which allows us to see glimpses of Annie Lennox's richly varied and enduring creativity: it will undoubtedly be one of the highlights of 2013 at the Portrait Gallery.'
Director of The Victoria & Albert Museum in London, Martin Roth, said:- 'We are delighted to be showing the V&A's House of Annie Lennox exhibition at the Scottish National Portrait Gallery as part of our programme of touring exhibitions around the UK. Annie Lennox is one of the world's most renowned female performers whose creativity informs her unique sense of image and style. It is particularly exciting to be showing the work of this Scottish performer in Scotland at this time as we work with our partners in Dundee to create V&A at Dundee, a new design museum for Scotland.'
The House of Annie Lennox
23 MARCH 2013 – 30 JUNE 2013
SCOTTISH NATIONAL PORTRAIT GALLERY, 1 Queen Street, Edinburgh, EH2 1JD
Admission free
***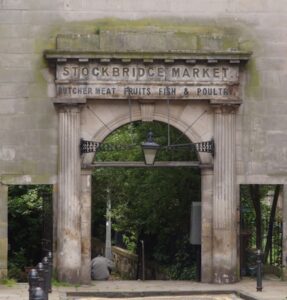 An outdoors suggestion for you today is to get down to Stockbridge and support the Farmers' Market there between 10::00am and 5:00pm. Don't be misled by our photo which shows the old market arch in St Stephen Street. The market is in the area on the corner of Saunders Street. You really cannot miss it!  Click here for the list of stallholders who will be selling their wares today.
***
Atria, the council's landmark Grade A office development, marks the completion of The Exchange business district in Edinburgh and is split between two buildings (Atria One and Two), comprising nearly 200,000 sq ft of accommodation. Atria One provides 186,008 sq ft of highly efficient, flexible floorplates (up to 32,000 sq ft) over seven floors and the smaller Atria Two provides 12,922 sq ft split over two office levels.
The Council was named Property Company of the Year by the Estates Gazette editorial team based on a combination of development and investment activity, securing key lettings and planning permission, at an event in The Dome, last week.
Damian Wild, editor of Estates Gazette, commented on why the Council was chosen:- "The City of Edinburgh Council was our choice for Estates Gazette's Scotland Property Company of the Year. Developing Atria speculatively was such a brave call in the dark days of the recession. It was a bold move that has been rewarded with lettings ahead of its official launch."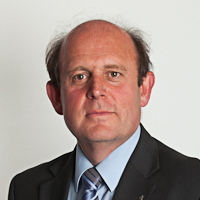 Councillor Frank Ross, who is chair of the Economy Committee for the City of Edinburgh Council, commented: "The Council is absolutely thrilled to be recognised for its work on Atria through this highly regarded award. It is a nod to the massive efforts of the project team throughout the past three years who have worked extremely hard to deliver the development, and to be given it by a publication like Estates Gazette is a huge accolade.
"With great projects happening all over the city, such as the SoCo and Advocates Close developments on site and Haymarket and Caltongate in the pipeline, Edinburgh is a very exciting place to be."
The commercial office development has been undertaken alongside an extensive expansion of the adjacent Edinburgh International Conference Centre (EICC).
Atria Edinburgh is due to be launched officially later this month, and plans to welcome its first tenants in June.
Atria Edinburgh is being marketed for let by joint agents Jones Lang LaSalle and Montagu Evans.