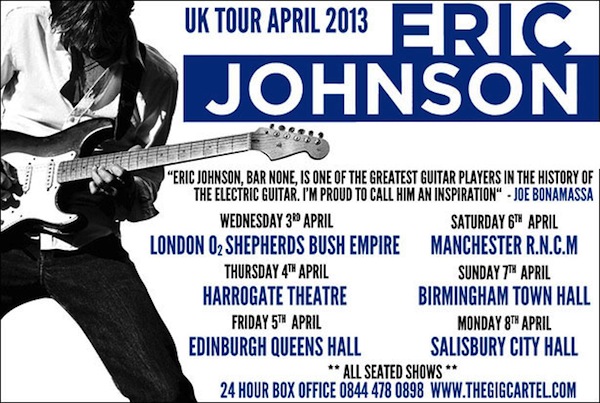 Eric Johnson, the critically acclaimed American electric guitarist, hailed by Joe Bonamassa as "one of the greatest guitar players of all time," starts his 6-date UK tour at London's o2 Shepherds Bush Empire tomorrow and will appear in Edinburgh this Friday 5 April 2013.
The UK tour will showcase material from his new album Up Close- Another Look, which is released this week. Eric's stage time for each of the UK shows is 8.30pm.
Guitar Player magazine describes Johnson as "one of the most respected guitarists on the planet." His platinum-selling 1990 recording Ah Via Musicom produced the single Cliffs of Dover, for which he won the 1991 Grammy Award for Best Rock Instrumental Performance. In 1996 he teamed up with Joe Satriani and Steve Vai for the original G3 tour that garnered a worldwide audience with the platinum selling CD/DVD. Johnson plays Fender Stratocasters and Gibson ES-335 electric guitars through a triple amp setup, consisting of vintage Fender and Marshall amplifiers.
Edinburgh Queen's Hall
Friday 5th April
Tickets: £25 / Box Office: 0131 668 2019
85 – 89 Clerk Street, Edinburgh, EH8 9JG
Doors 6.30pm / Stage 7.30pm
www.thequeenshall.net