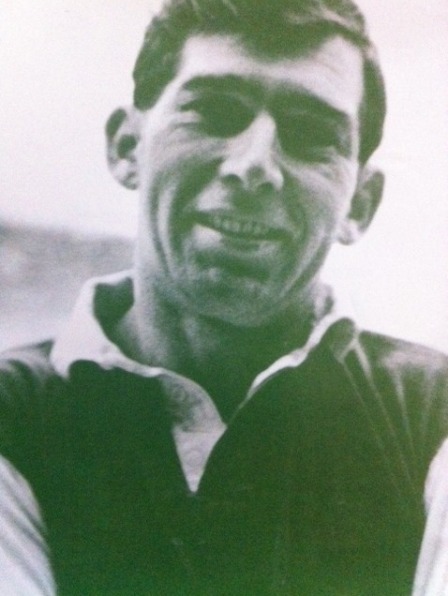 Friday marks the 90th anniversary of the birth of the man who is considered by many to have made the greatest overall contribution to Hibernian Football Club.
In an unparallelled career, he was a winner of major trophies as both player manager, holds the distinction of being the first British player to score a goal in Europe, was part of what was arguably the greatest forward line ever seen  in Scottish Football, turned down an offer to join Manchester United and hold the record of being the oldest player ever to be awarded an international cap.
Born on 12 April 1923 in the village of Carronshore near Falkirk, Edward Hunter Turnbull was the youngest of five children. His father James was a miner, in the Carronshore pit whilst his mother Agnes stayed at home and brought up the children.
After leaving school at 15, 'Ned' got a job as an apprentice gas fitter at the Carron Iron works. He worked there until his eighteenth birthday, before resigning to join the Royal Navy, where he served on HMS Bulldog for the remainder of the Second World War. The ship was part of the Arctic Convoy where the constant danger from enemy submarines and harsh weather conditions left a mark on the young seaman.
After being de-mobbed, in 1946, Ned returned to Carronshore and was picked to play for local football club, Forth Rangers. By chance, the game was watched by the Hibernian manager, Willie McCartney, who saw enough to convince him that Eddie had the makings of a great player. One week later, he was invited to Easter Road where he gladly signed a contract worth £5.00 per week.
Ned quickly made the first team where his aggression, creativity, work rate and thunderous shot made him a favourite with the Hibs fans. Less than a year after joining the club, Ned played in the Scottish Cup Final at Hampden Park where Hibs lost narrowly to Aberdeen in front of 82,140 fans. In 1948, he was selected to play for Scotland against Belgium, the first of eight appearances.
Little did he know it, but this was the start of the most successful period in the clubs history and Ned more than played his part. Over the next four years, Hibs won the Scottish League on three occasions, and the forward line which contained Ned, his best pal Willie Ormond, Lawrie Reilly, Bobby Johnstone and Gordon Smith became known as 'The Famous Five.'
During that spell, Matt Busby, the manager of Manchester United made an undisclosed bid for Ned, and although the club would have considered selling him, Ned made it known that his heart lay at Easter Road and he declined the offer. Had he gone, there is a good chance that he would have been on the Manchester United plane which crashed in Munich, in 1958, leaving 23 dead.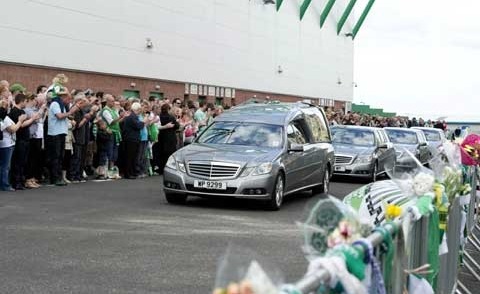 In 1955, Hibs were invited to take part in the inaugural European Cup, and were drawn to play the German Champions, Rot Weiss Essen in the first round. The first leg was held in Germany on 14th September, and after 35 minutes, Ned opened the scoring with a trademark thunderbolt, becoming the first British player to score in a European tournament. Hibs eventually won 4-0, and progressed to the semi-final where they lost to Reims of In 1958, Ned played three times for Scotland in the World Cup Finals held in Sweden, drawing with Yugoslavia, and losing to France and Paraguay. He retired the following year and after a brief spell coaching Hibs, Ned accepted the manager's job at Queens Park. His skills quickly brought him to the attention of the Aberdeen board, and in 1965 he was appointed the manager at Pittodrie.
His six year tenure there saw him build an attractive well organised team who won the Scottish Cup in 1970, beating Celtic 3-1 in the final.
The lure of Easter Road however was too great, and a year after winning the cup, Edinburgh builder Tom Hart, who had recently bought Hibs, made him an offer he could not refuse. Ned remained at Easter Road for a glorious nine years and built a team, which won, the League Cup in 1972 and achieved legendary status by trouncing near neighbours Hearts 7-0 at Tynecastle. His teams also won two Drybrough Cups beating Celtic on both occasions, and were runners up twice in the Scottish Cup Finals, in 1972 against Celtic and in 1979 against Rangers after two replays. They also lost the 1974 League Cup Final against Celtic despite striker Joe Harper scoring a hat-trick in the final.
In Europe his Hibs teams beat Sporting Lisbon and Liverpool, and took Leeds United to a penalty shootout after two draws.
In retrospect, Ned admitted privately that he broke up his legendry Tornadoes side too early, however he did bring in some decent players as replacements such as Des Bremner, Jackie MacNamara, Ralph Callaghan and George Stewart.
He retired in 1980 after a fall out with Tom Hart over the decision to sign George Best, and opened 'ETs' Bar in Easter Road.
The story did not finish there because in 2006, he became the one of the oldest player to be awarded a Scottish cap. When Ned played, caps were only awarded for games against England Wales and Northern Ireland, so despite representing his country in the World Cup, he never received one. When this became public knowledge, a newspaper campaign ended with the SFA accepting the injustice and awarding caps retrospectively. Ned received his aged 82.
The great man passed away on 30 April 2011,  and his memorial was an all-ticket affair at the Mansfield Traquair attended by the great and good of Scottish Football. Fittingly the funeral cortege stopped outside the new East Stand at Easter Road where hundreds of fans burst into spontaneous applause as his coffin came into view.
Coincidentally, Manchester United celebrated the 90th anniversary of the birth of the man who tried to sign Ned; Sir Matt Busby; by winning the European Champion's League on the day in question. Hibs are playing their most important match of the season on the day after his birthday, which hopefully will be a good omen.
Hibs will take around 16,000 fans to Hampden in a repeat of the 1974 League Cup Semi-Final where Eddie led his team to a narrow 1-0 win thanks to a late Joe Harper goal. A similar score line would not go amiss in Leith.
Finally, anyone who thought Ned's impressive medal haul was complete following his death are wrong, as ironically; his service on the Arctic Convoys would have entitled him to a posthumous medal today.