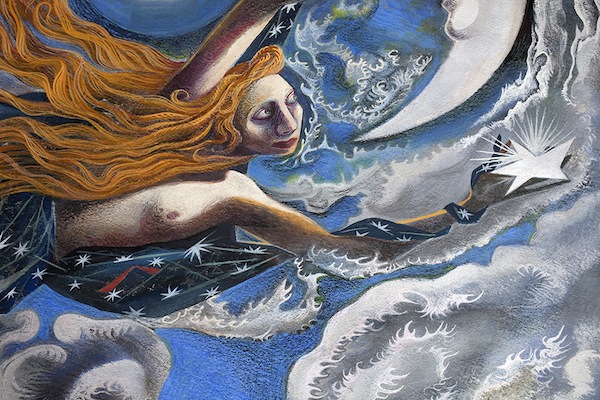 BYRNE TO LIGHT UP THE KING'S DOME
The Festival City Theatres Trust has commissioned renowned Scottish artist John Byrne to redesign the domed auditorium ceiling of the King's Theatre as part of the building's ongoing restoration and redecoration, creating a unique and beautiful new public artwork.
Byrne, equally celebrated for his paintings as he is for his theatrical works, has produced a vivid, colourful design which plays on duality, light and shade, the sun and the moon and features the opening lines from Jaques' famous monologue in As You Like it 'All the world's a stage..'. Rich in theatrical motifs and references, the design – its commission made possible through funding from the Theatres Development Fund and private donations – will be painted onto the dome in July as part of the final stages of the redecoration of the King's interior. It will be unveiled at the start of August, just in time for audiences to appreciate at performances in the Edinburgh International Festival.
Duncan Hendry, Chief Executive of the Festival City Theatres Trust commented:- 'I am absolutely delighted that John Byrne has agreed to create a new fresco for the dome of the King's. As well as having written many of the great plays that have graced the stage at the King's, John is a superb visual artist and a regular attender at our theatre. I can think of no one more appropriate to provide a beautiful and thought-provoking design for the dome and I'm sure that audiences will enjoy his work for many years to come."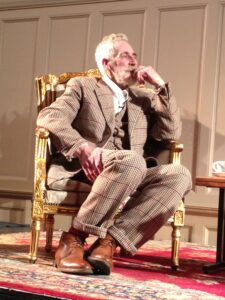 John Byrne, explaining the genesis of the commission, said:- 'When my partner Jeanine and I went to the King's to see the splendid West End touring production of The Ladykillers, we glanced up at the dome and noticed that part of it had been replastered (this prior to the curtain going up on the play, I hasten to add) which made us wonder what was going to happen with it. You can imagine my surprise and delight when a few weeks later I was asked if I would like to accept the commission to provide a new design for the dome – I didn't even have to think, I jumped at the chance!  Given that it's a two-minute walk from where we live and we not only stroll past it on a daily basis but we are regular theatregoers there, all I can think to say is "God Save the King's!'
Culture and Sport Convener, Councillor  Richard Lewis, said: 'I'm delighted that a local artist, particularly one as talented and accomplished as John Byrne, has been commissioned to redesign the dome and I look forward to seeing the results once the work is complete.'
John Byrne is one of Scotland's most celebrated artists. A painter, designer, writer and playwright, John's written work has won numerous awards and his paintings are held in national and private collections.
The Festival City Theatres Trust is an independent theatre organisation which runs two of Edinburgh's oldest and best-loved theatres – the Festival and King's Theatres. The King's Theatre was built by Edinburgh builder, William Stewart Cruikshank and opened in 1906, boasting beautiful art nouveau foyers before opening out onto a tremendously opulent baroque auditorium.
The King's is now Edinburgh's home of quality touring drama, bringing the UK's best productions to Scotland.  Over the years the King's has played host to some of the world's biggest stars including Sir Laurence Olivier, Maria Callas, Noel Coward, Leslie Nielsen, Sir Patrick Stewart, Sir Ian McKellan, Penelope Keith, and Simon Callow.
The King's remains a community theatre at heart, this beloved venue earning its place as 'the people's theatre' by remaining committed to supporting Edinburgh's long tradition of amateur theatre and operatic groups.  It is also home to the annual King's Panto which welcomes almost 90,000 people a year.  The Festival and King's Theatres have a strong learning and participation programme, with over 10,000 people of all ages each year taking part in performing arts activities.
The King's underwent the first phase of a major restoration in 2012, its first since 1985, which included replacing the stalls and dress circle seats, improving disabled access, creating a new box office and carrying out repairs to the exterior and interior architecture. This new ceiling fresco is being completed as part of an improvement of the auditorium's overall decorative scheme. The works are being overseen by Edinburgh architects Smith Scott Mullan Associates.