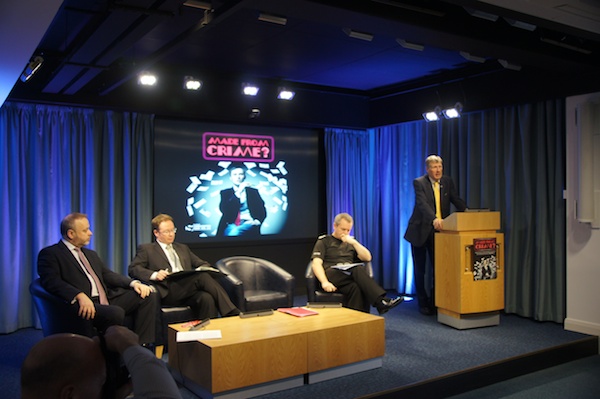 Police forces in the East of Scotland are continuing their campaign to target people living lifestyles through crime by appealing to sports fans in the Capital. This weekend, a 20-foot long Ad Trailer will be on display in high profile venues across Edinburgh advertising the successful 'Made From Crime?' initiative.
It is the only POCA (Proceeds of Crime Act) initiative of its kind in Scotland, and a high profile media and marketing campaign is in place to encourage local communities to come forward and tell the police about suspected criminals.
As thousands of sports fans descend on the city to watch this weekend's local football derby and 6 Nations Rugby International, police hope that the Ad Trailer might encourage people who have vital information to come forward to Crimestoppers.
The campaign was launched across the East of Scotland in January 2013, and since then the charity has reported a huge rise in calls. In the first three weeks, there was a 30% rise in all intelligence, with Fife reporting a massive 80% rise.
Detective Chief Inspector Bobby Deas from the City of Edinburgh Division said:- "This weekend the City of Edinburgh will welcome thousands of rugby and football fans and it promises to be an excellent weekend of sport.
"This gives us a great opportunity to target people who might have vital information that can help us target criminals making money illegally. All of us have a role to play in tackling crime and keeping our communities safe and I would appeal to anyone who has knowledge of criminality to report any suspicions, no matter how insignificant they may seem, either to the police directly or via Crimestoppers.
"We will deal with this information anonymously to ensure the personal safety of those reporting it, and we will always work to bring offenders to justice. In the meantime, uniformed officers will be out at Easter Road and Murrayfield Stadium ensuring everyone can enjoy a family-friendly and safe atmosphere this weekend.
"Edinburgh has an international reputation for hosting safe and memorable events, and we are looking forward to welcoming fans from both far and away."