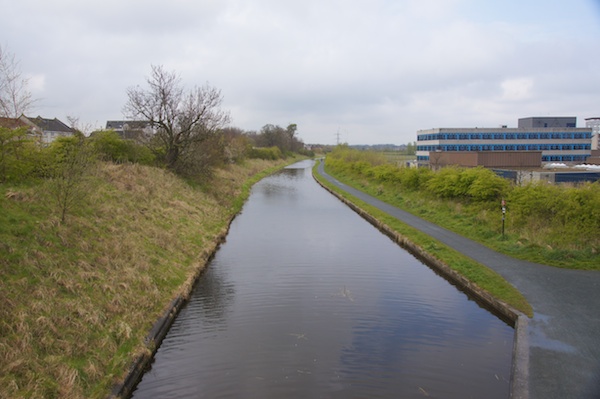 A major skills and employability programme centred on the Forth & Clyde and Union canals will open in early summer following an award of £195,200 from the Heritage Lottery Fund.
The innovative, outdoors 'canal college' has been designed by the Scottish Waterways Trust to help address youth unemployment in Falkirk and Edinburgh by teaching heritage and environmental skills to disadvantaged 16-25 years olds.
The £468,189 canal college, which is supported by Scottish Canals and which has also received funding from the European Union Interreg IVB North West Europe programme and Scottish Natural Heritage, will run for two years and comprise twelve individual 14 week courses.
Volunteer participants will undertake a wide range of practical projects, conserving and interpreting the built, natural and cultural heritage of the two hundred year old canals and will work towards a number of awards and certificates.
Members of the wider community will also be able to become volunteer mentors on one of the 14 week programmes or take part in guided walks, talks and celebration events.
Around 500 people in total are expected to benefit directly from canal college which will run between June 2013 and June 2015.
Karen Moore, Chief Executive, Scottish Waterways Trust, said:- "We are thrilled to receive such tremendous support from the Heritage Lottery Fund. After two years of development, it is exciting to think that within a few months we can open the doors of canal college and begin to starting helping young people in Edinburgh and Falkirk gain the skills and confidence they need to get on the path to work.
"The added significance of canal college is that as well as giving so many young people relevant and transferable job skills, the projects they will undertake will also benefit the wider community and help sustain the canals which are today Scheduled Ancient Monuments full of heritage, wildlife and green open space. The volunteers will, for example, create a range of heritage and wildlife trails for people to enjoy as well as work on two 'signature projects', the unearthing of the historic Falkirk Lock Flight and the creation of a new landscaped gateway to the Union Canal at West Calder."
Colin McLean, Head of the Heritage Lottery Fund in Scotland, added:- "Our heritage offers a rich resource for skills and education so HLF is delighted to support canal college where it is being used in such an innovative way. The canals will provide powerful and memorable experiences for young people, making learning fun and opening their eyes to the heritage which surrounds them. Their newly-learned skills will not only make a positive difference to their own lives but will play an important part in looking after Scotland's canal network."
canal college will comprise six, 14 week programmes in Edinburgh and six in Falkirk with participants volunteering for two days each week.

Participants will work towards a number of awards and certificates including the John Muir Award, Youth Achievement Award and the Saltire Volunteer Award.

Towards the end of the programme, participants will be given help with job seeking and interview skills leading to a Presentation Skills Certificate. They will also receive a canal college Award for completing the 14 week programme.

Participants will take part in practical supervised projects in three core areas: natural heritage, built heritage and cultural heritage.

Natural heritage projects will include landscaping, tree planting and vegetation management, habitat creation projects and wildlife surveys to help manage biodiversity on the canals.

Built heritage projects will include learning how to undertake surveys of buried locks and listed structures with archaeological surveyors, discovering the engineering behind the canal network and practically helping maintain canal structures in partnership with Scottish Canals.

Cultural heritage projects will include training in archiving, guiding skills and researching information to help interpret and engage people with the Scottish canals.  Such research will involve oral history stories, poems, photographs and factual text.
For more information about canal college visit www.scottishwaterwaystrust.org.uk