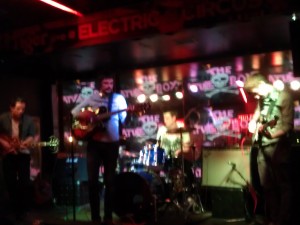 Starting this fundraiser for Maggie's Centre last weekend was the criminally under-rated The Litigators. Despite only being one of their drummer's first amped-up live outings, the four-piece rocked with their trademark style of addictive blues-rock.
Opener 'Bluebirds' motors along on the swoons and sways of lead singer Michael McNelly's vocals and Daniel Hill's beat-perfect drumming. 'Warrior Slave' has guitarist Danny Appolinari unleash his first of many fret-bursting licks of the evening, providing the sharp edges to this hypnotic dagger of a song. Fans-favourite 'Optical Illusions' brims with the same exuberance as always, with hooks so catchy they should come with a health warning.
New song 'A Shining Light' shows The Litigators have more strings to their bow than your average up-and-coming band, with the mesmeric number pondering purposefully before exploding into a cacophony of thundering guitars and searing vocal heat. The all too short set is brought to an end by the pounding 'Heaven's Walls', which surfs the waves of sonic splendour the band fire off with such refined ease.
Next band, the Pirate Sons, changed the game entirely, taking to stage in fancy dress with their own menagerie of fans similarly adorned in the crowd. While their outfits might be fun, their music is no joke – sitting somewhere between the intensity of A Place To Bury Strangers and the dirty decadence of The Black Keys. Combining the musical mania of a Scotsman, an Englishman and a captivating New Zealander frontman, the three-piece's set peaks during an exuberant White Stripes cover.
Headliners The Nature Boys throw the third dimension into this gig, with their young-at-heart, seasoned-pro-dynamism helping to set the Electric Circus further ablaze. The excellent 'Two Lovers' is a sultry post-punk number, building up with verving guitar lines before Cammy Shiels' excitable serenade of a chorus. 'F*ck The BNP' sounds as sincere as it should whilst 'Rock On' is a perfect cocktail of gritty, grinding drums and Mark Cooper's evergreen solos. Highlight of the set is the doom-ridden 'Valhalla', which is powered by the kind of bass line that could crack walnuts. Sounding as otherworldly as the home of the Gods, the song squeezes every ounce of energy from the amps and crowd.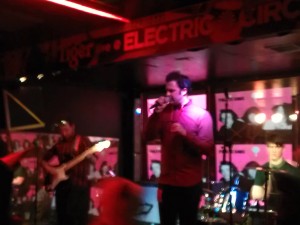 Not only did the gig blend some flat out musical brilliance with a couple of pinches of madness and on-stage male toplessness – but it was all in the name of a good cause. You won't see a better gig for £5.
https://www.facebook.com/thelitigators
https://www.facebook.com/PirateSons
http://www.facebook.com/pages/The-Nature-Boys/106870509370826