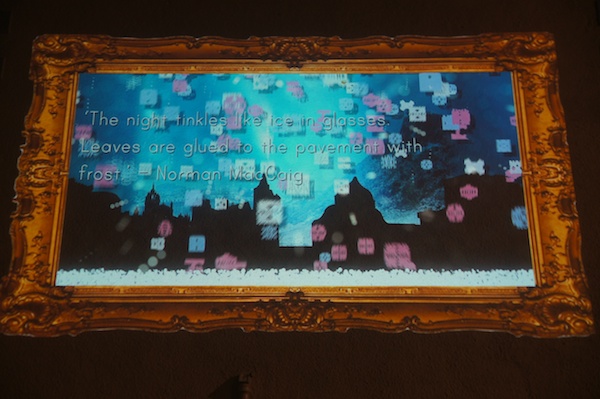 A festive 'Winter Wall' was unveiled last night on the capital's historic Royal Mile by the Edinburgh Makar and prize-winning novelist Ron Butlin.
You can watch our video here
The project, supported by The City of Edinburgh Council, is a projection of snowflakes drawn by Royal Mile Primary school children, the moon, northern lights and literary quotes including one written especially by Alexander McCall Smith onto Whitefoord House – the Scottish Veterans Residence in the Canongate.
Snowflakes will also be stencilled on the Royal Mile from the junction at Jeffrey Street /St Mary's Street to create a festive trail for residents and visitors down to Whitefoord House.
Councillor Frank Ross, Convener for the Economy said:- "This is great news for businesses in the Canongate and another great example of our building stronger town centres initiative which helps to improve the look and feel of areas to draw in more visitors. I am confident the snow flake trail and projection will bring festive cheer to everyone living in or visiting the area."
Lieutenant Colonel Ian Ballantyne, Chief Executive of Scottish Veterans Residences: "With nearly 100 veterans living here at Whitefoord House we believe it is vital to maintain strong links with community in Edinburgh and therefore Scottish Veterans Residences is delighted to host the Canongate Winter Wall. The building has historic links with both Robert Burns and Sir Walter Scott so the literary theme is most appropriate, and I am sure that our veterans will enjoy the festive light show."
The projection has been arranged by Northern Lights.
The quotes include these:-
Edinburgh is a city of stone and spires; a city of shifting veils of light; a city of ancient whispers" – Alexander McCall Smith
'The night tinkles like ice in glasses. Leaves are glued to the pavement with frost.' – Norman MacCaig
As fragile and transient as life – James Runcie
Draped in layer upon layer of near-soundlessness, our city's forced to pause . . . and listen to itself – Ron Butlin.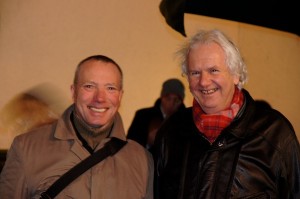 Councillor Gordon Munro (seen here with Ron Butlin) represented the council at the unveiling and we will have audio reports from him and some of the children involved later today.