Hard Rock Cafe Edinburgh and It'sGood2Give have teamed up to raise funds for the local charity.
Here is a little bit about them from their website:
"It's Good 2 Give officially came to life in April 2010 and already we have raised over £200,000 for local young people with cancer and their families. We may be tiny but we have huge ambitions! In the long term, our aim is to raise £1 million to fund the build of a purpose-built respite house for young people and their families affected by cancer. This will allow families to use it for a short break together – a purpose-built, restful, safe place."
There are some very rare Hard Rock pins to be had all in the name of charity but to top it all off is a cracking Hard Rock Elephant named Rita.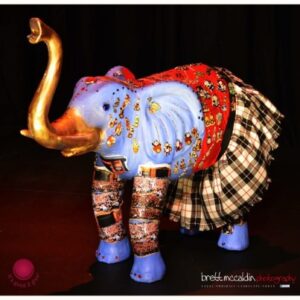 Lesley Ross Sales and Marketing Manager at Hard Rock said:
"We have been given over 100 pins from Hard Rocks all over the world – some are one off pins and some real collectors pieces including Rita our special charity Elephant. All people serious in making an offer for this Elephant please get in touch with us direct at the Hard Rock Edinburgh all in aid of our local charity itsgood2give"
For more information please go to:
https://www.facebook.com/groups/414200455305212/439589099433014/?ref=notif&notif_t=group_comment#!/hardrockcafeedinburgh
or contact Hard Rock Cafe Edinburgh on: 0131 260 3000
It's good2give charity is: http://www.itsgood2give.co.uk/
*Thanks to Brett McCaldin Photography for use of the Rita Picture*