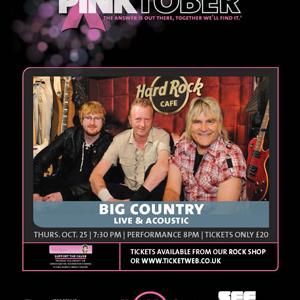 Legendary Scottish Rock band Big Country played an acoustic gig at Edinburgh's Hard Rock Cafe on Thursday night in support of Pinktober which is raising awareness of Breat Cancer and saw all proceeds raised going to the Caron Keating Foundation.
The Line-up Bruce and Jamie Watson, Mark Brzezicki, Mike Peters and recently recruited former Simple Minds and Propoganda bassist, Derek Forbes, played a full set in front of 200 people who were all there to see Big Country, but also to raise funds for Pinktober.
The band came on stage to thunderous applause and cheers from a crowd that were appreciative from the start, and Big Country seemed to feed off this as they burst into Harvest Home. What followed were some absolutely classic Big Country numbers such as Chance, Fields of Fire, Wonderland and of course the rousing 'In a Big Country' among other great songs like 13 Valleys, Fragile Thing and a brilliant Porrohman. The crowd lapped up every note and every word the band threw at them.
 Hard Rock staff had done a great job in pulling off such an event, even if it was for one night only.
I admit to being a massive Big Country and Alarm fan, so I felt priviliged when I got the chance to speak to Bruce and Jamie Watson and Mike Peters, as well as Hard Rock Director Brant Coulter who had flown over from Chicago to see his heroes perform.
This is what they all had to say.
It was a fantastic night and thousands of pounds were raised for The Caron Keating Foundation.