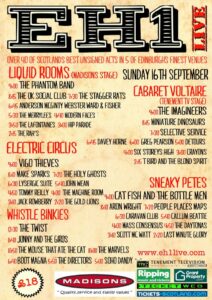 Final preparations are underway for the return of EH1 Live this Sunday 16 September.
The one-day music festival, which takes place at five venues across the city, will see 40 of the country's finest unsigned bands descend on Edinburgh.
The Machine Room, The OK Social Club and The Gold Lions are just a few of the local acts set to play over the course of the event.
Ben Short, one of the festival's promoters, told The Edinburgh Reporter that:- "Our inspiration came from our love of Scottish unsigned music. We wanted to put an event on that celebrated Scottish music and an opportunity for different bands to play with each other and have the chance to possible gain more fans.
"We see this as an ideal way for bands to gain more exposure than what they would receive from "normal" gigs. Since EH1 LIVE got introduced last year we have already seen major growth signs. We want to take this bigger and bigger each year but while always remembering the purpose of the festival."
This year's festival will see acclaimed Glaswegian six-piece The Phantom Band headline the Liquid Rooms whilst The Imagineers, fresh from their stint on The Craig Ferguson Show, top the bill at Cabaret Voltaire.
Bands will also be playing at Electric Circus, Whistle Binkies and, due to Sneaky Pete's losing its gig license, Bannermans Bar throughout the day.
A small number of tickets are still available for EH1 Live from Ripping Records, Ticket Scotland and Ticket Web (£18)