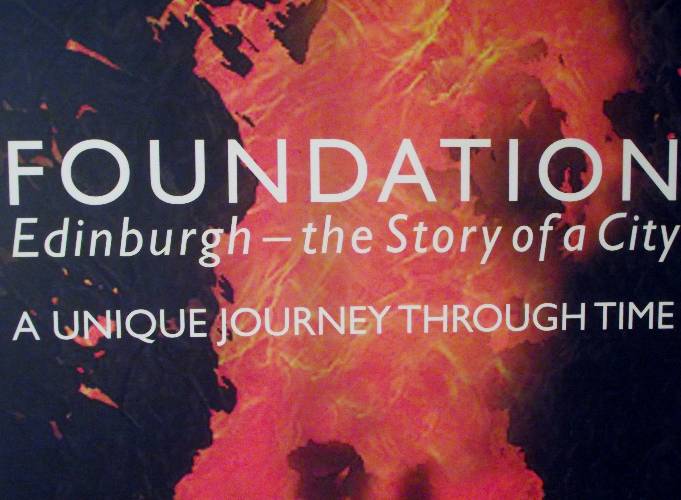 Foundation Edinburgh is the newest attraction to be added within Edinburgh's Museums and Galleries. Based at The Museum of Edinburgh on the Royal Mile, the museum has just gone through a substantial refurbishment, and has added this new exhibit as part of that.
This is a filmshow highlighting the history of Edinburgh from its volcanic beginnings to present day and everything in between.  Foundation Edinburgh – the Story of a City gives you a good overview of the city's history in this short film.
You are taken on a journey following the path Edinburgh has taken over thousands of years through battles, several stormings of the Castle, to the times of Burke and Hare, forward to the beginnings of the Edinburgh Festival, the creation of the new Scottish Parliament and lots more besides.
It is a history lesson that captures the imagination as you view it.
The Edinburgh and Lothian's tour recently said "we learned about the latest visitor attraction they have a 17 minute film that will make you feel as if you're flying over the city seeing history unfold – from the volcanic creation of Arthur's Seat in prehistoric times to events today", and indeed you do feel as if you are flying as you are standing over a very big screen as the film unfolds below you which is a unique and clever way of showing the film.
We spoke to Frank Little, Museums and Galleries manager, to ask where Foundation came from, how long the process took and indeed what his role and input was.  Here is what Frank had to say while we were watching the film in the background….
http://www.mixcloud.com/basher1969/interview-with-frank-little/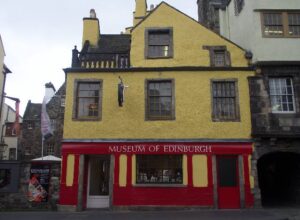 So we know where it came from and what the process was but what about the people who come to see the film what are their thoughts about it? Here we spoke to Diana Morton, the Museum and Galleries Outreach Manager, and asked what the reaction has been to the film and how people can be involved in community groups concerning the museums and galleries.
http://www.mixcloud.com/basher1969/interview-with-diana-morton/
So there we have it. The new attraction at the Museum of Edinburgh has been well received. It has taken a lot of hard work to get it up and running, but the story does not end here.  The Museum of Edinburgh has recently fully re-opened after recent refurbishment and has displays dedicated to Greyfriars Bobby, Earl Haig and also the National Covenant, signed by Scottish noblemen to protect the Church of Scotland.   
So if you want to know about Edinburgh's history then the Museum of Edinburgh might be a good place to start?
For more information please go to:
http://www.edinburghmuseums.org.uk/Venues/Museum-of-Edinburgh
https://www.facebook.com/#!/pages/Museum-of-Edinburgh/173958056468