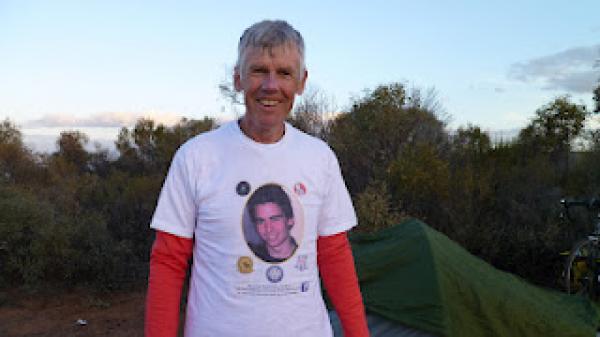 The Edinburgh Reporter has been following the progress of Edinburgh man, Andrew Dickson, during his 4,000 mile charity cycle ride across Australia, and we can now report that he has passed the thousand mile mark.
His adventures this time include sleeping on the world's largest golf course, discovering an unusual sunbather on the world's longest straight road and meeting a real-life bouncing kangaroo whilst cooking his tea. He has also met many kind and generous strangers who have so far made the journey more bearable, but also found one aspect of the trip particularly upsetting.
When we left Andrew, he was applying 'rear end cream' after a much needed shower in Kalgoorlie, and after leaving the warmth and comfort of the back packers hostel, he headed south to Norseman passing Lake Cowan, which covers a huge area but which is completely dry, where he stocked up for the 900 miles of the Nullarbor Plain
South of Kambalda, Andrew returned to the main Highway 94 and stopped at Widgiemooltha Roadhouse for food and encountered Lynn and Norm Dunn who very generously donated 50 (A) dollars to the charities.
That night Andrew camped, amazingly, on the third fairway of the Nullarbor Links Golf Course, which is one of the most unusual courses in the world, firstly because it's mainly played on sand, and secondly it's an 18 hole, par 72 course spanning 1,365 kilometres with one hole at each participating town or roadhouse from Kalgoorlie in WA to Ceduna in SA.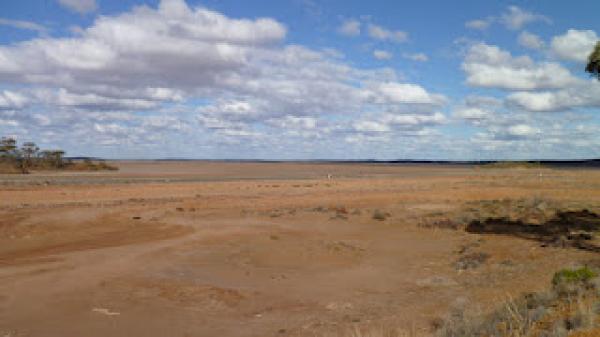 The following day, Andrew cycled past the Frazer nature/conservation reserve which is the world's biggest area of Mediterranean woodland, before stopping at Newman's Rock to camp as there's a pool which attracts wildlife.  So far, other than birds and ants, Andrew hadn't seen one live, four or two legged wild creature, but he did meet some of his own species who were spending the night in their camper vehicles; Marg and Phil Dalziel from Maryborough, plus Victoria and her friends Liz and Leon Whelan from Greenbushes near Perth.
While Marg cooked a grateful Andrew steak and veggies, he spoke to Liz who has ancestral connections with Kirkintilloch.  In addition to their hospitality, both groups kindly gave donations.
An early rise allowed Andrew a quick look at the tourist boards in the town, and it appears it was first settled/named by a Shetland Islander who was very proud of his Norse heritage, hence the name.  He then picked up Highway 1, known as the Eyre Highway going east, which will take him all the way across the Nullarbor to Ceduna.
After lunching at Balladonia, Andrew discovered a runway on the Highway which was one of several used by the Royal Flying Doctors Service.  He then came to Australia's longest stretch a straight road.  90 miles without even one slight bend, before camping in the 1st rest area after Woorlba.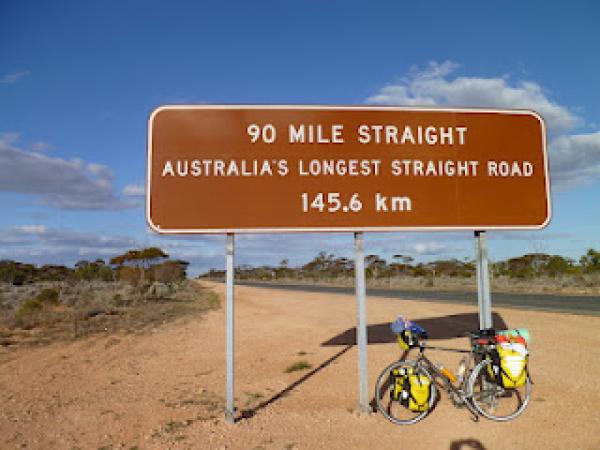 On Friday 31st August Andrew finally saw his first, four legged live animal, a small lizard, which was only about 9″ long, sun bathing in the middle of the highway!
The following day, in the Caiguna Roadhouse, which is at the east end of the 90 mile straight road, youngsters Lillian and Andrew kindly donated some of their pocket money to the charities.
Just after Caiguna there is a time change of 45 minutes going from Western Australian time to Central Western Australian time.  Apparently though, this isn't strictly official!
That night, Andrew camped about 14 miles east of Caiguna. Then it finally happened. Whilst cooking tea, Andrew heard a noise, and on looking round he saw a live, 'bouncing about' kangaroo.  Unfortunately, it saw him first, so there's no photo. During the night there were showers, strong winds and lots of thumping as the kangaroos moved about.
The next day started off with a strong headwind for about 20 miles and he was almost at the stage of giving up for the day, when he stopped for a drink at a parking area and was approached by Brian Keenan who introduced him to his wife Shirley, and was invited into their new camper van and fed coffee, cake, chic chip cookies, apples, bananas and lettuce.  They told him they were going through the border quarantine control later in the day and would have to bin the stuff, so it was better being used by him!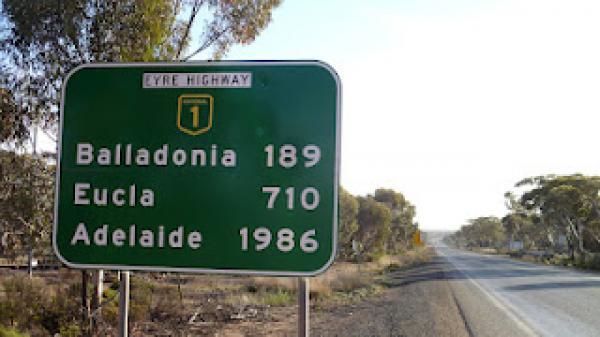 Andrew is keen to express his gratitude to several of the people he has met for their kindness and told The Edinburgh Reporter:- "To Brian and Shirley, I'd like to say thank you for your kindness and for arranging the change in wind direction just as I set off again.  Honestly folks, while in the camper van, the direction of the wind had moved, giving me a great push from behind.  Just super.
"I would also like to thank Shani and Casey from the Mundrabilla Roadhouse. for being so welcoming, and Julie and Damien from Toulouse, who are over from France for a year of touring and working.  We spent a nice evening spent chatting (in English) and eating fruit, bread and cheese.
"I also met my first other touring cyclist, Koji Arima from Nara in Japan.  He's over in Australia for a year and decided to go to Perth, buy a bike and cycle to Brisbane, following roughly the same route as myself.  He is also playing all 18 holes in the Nullarbor Golf Course.  He's only played twice before but decided to do the course anyway.  He'd just played the hole at Eucla, which entailed a 3 mile cycle on rough track to the tee and the same 3 miles out.  Now that's real golfing.
"The four of us all met up again a few miles further on at the boundary of Western Australia and South Australia where there is another time change.  A further 45 minutes.  This time it's official.
"At Eucla the wind started to get up and shortly after could either have been described as brutal or a joy.  Luckily I was going eastwards.  Otherwise, it would have been a case of hunkering down a waiting it out.  It would not have been possible to cycle against it.  As a result, I managed my first 100 mile day and also went through the thousand mile mark.  Three thousand still to go."
Whilst Andrew is enjoying his adventure, there is one aspect that the 60 year old animal lover has found upsetting.
"I should mention, while live animals are difficult to spot, ones on and by the side of the road are not.  When I say thousands, I'm not exaggerating! Mostly kangaroos of all ages and sizes, struck during the night by the vehicles.  It is just so sad."
Andrew is paying all of his own expenses to ensure that every penny goes to the Craig Gowans' Memorial Fund and Radio Lollipop.
Anyone wishing to contribute can do so at virginmoneygiving.com/bikingacrossaustralia
The Edinburgh Reporter will provide regular updates on his journey, but anyone wishing to follow this remarkable man's progress more frequently can do so at http://bikingacrossaustralia.blogspot.co.uk/