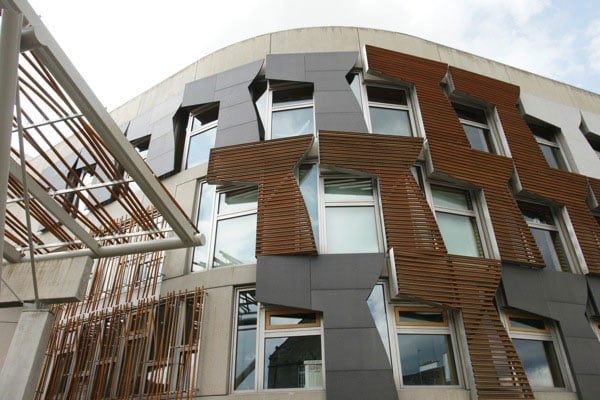 Several of our Edinburgh MSPs were in good voice today at Holyrood.
First of all at General Questions this morning, we heard Colin Beattie SNP member of the Scottish Parliament for Midlothian North and Musselburgh, ask when the Sheriffhall roundabout will be redeveloped, to which the Minister for Infrastructure and Capital Investment, Alex Neil, replied that with the 30% cut in budget offered by the Westminster Government affordability of such a plan has been made difficult.
Alison Johnstone, Lothians Green MSP, asked how many of The Scottish Executive's employees have their salaries paid 'off-payroll'. The Finance Secretary John Swinney answered that there were 20 people identified but that they had all been paid less than £2,000 per annum. He said that tax avoidance is important and there was no real need to take any action.
Colin Keir, SNP MSP for Edinburgh West, asked about the social and economic impact of Community Hubs which are paid for by the Scottish Futures Trust, and highlighted the glowing example set by the Drumbrae Hub which has just welcomed 55,500 visitors through its doors since it opened earlier this year. Alex Neil confirmed that £1.4bn will be spent on similar hubs over the next 10 years.
Malcolm Chisholm, Labour MSP for Edinburgh North and Leith, enquired about the delay in procuring the North East Health Centre planned for his constituency which the Minister explained was due to the delay in getting agreement in detail among the parties. The Edinburgh Evening News had an article on Monday about the progress of various Health Centres and it seems to be an area where getting agreement or forward movement is proving difficult.
Then at First Minister's Questions, first of all a question on suicide by Marco Biagi, SNP MSP for Central Edinburgh. The MSP urged action from the First Minister after highlighting the disparity in suicide rates in Scots than compared to those living in the rest of the UK, based on research published this week by academics from the Universities of Edinburgh and Manchester.
Mr Biagi highlighted the need to target those in society at risk before individuals take their own lives and highlighted the high rates of suicide in those with mental health conditions, and he said afterwards:- "It's clear from the research that alcohol and drug misuse rates in Scotland are major causes of our higher suicide rate, and the Scottish Government is already taking strong action in these areas.
"The high rate of suicide in Scotland in those with mental health problems such as depression is also a real concern. It is an alarming statistic that 11.3% of Scottish adults are currently prescribed antidepressants, higher rates than in England or the USA. While prescription drugs play a crucial role in helping treat depression and other mental health issues it is key that the right balance is given to other forms of treatment and support. I welcome the moves made by the Scottish Government to examine how this balance is achieved in the forthcoming Scottish Mental Health Strategy."
The First Minister was very sympathetic to the idea being promoted by Marco Biagi, but Labour's Kezia Dugdale MSP came off rather worse when she asked the First Minister to clarify how many new jobs have been created as a result of the modern apprenticeship programme. The First Minister was quick to point out that as at 31 March there were over 35,000 Modern Apprenticeships of which almost 22,000 were aged between 16 & 19. When Ms Dugdale pressed him on the number of these which were simply given to people in work rather than genuine unemployed persons, Mr Salmond reminded her that the rules on these apprenticeships have not been changed since her party was in charge of the Scottish Government, and that it was intended for those who were either employed or unemployed. He also explained that the number of modern apprenticeships have doubled since 2007 when the SNP came to power.
After lunch Sarah Boyack, Labour Lothians MSP, mentioned the Fountainbridge Canal Initiative to the Environment Minister, Richard Lochhead, as an example of good practice in the way to promote  and develop canal use, and finally Malcolm Chisholm asked another question, this time about the number of complaints regarding the Seafield Stench at the Seafield Waste Water Treatment Works. The answer was that SEPA had dealt with one complaint, Scottish Water 21 and The City of Edinburgh Council 243. The Minister explained that the problem in March this year had been brought about by dry weather during the winter.