BALERNO PUPIL CROWNED JUNIOR BURNSIAN 2012
The World Burns Federation National Festival, held recently in Aberdeen, crowned local Balerno pupil Annie Bowes Scotland's Junior Burnsian 2012, as reported on Deadline.   Over 165,000 pupils from across Scotland entered the competition with the finalists taking part in the live final. Annie Bowes from Deanpark Primary in Balerno was awarded the "West Sound" Rosebowl for her rendition of the poem 'Tam O'Shanter'.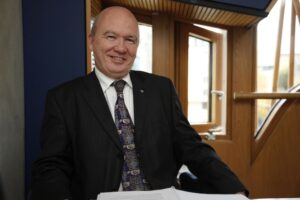 Local MSP Gordon Macdonald said "What a fantastic achievement! Tam O'Shanter
is an epic poem with twenty verses and as someone who has attended many a Burns Supper over the years I can vouch it is a big challenge even to adult Burn's enthusiasts."  
In recognition of her achievement Gordon has submitted the following motion to parliament:-
"That the Parliament congratulates Annie Bowes, a primary seven pupil at Deanpark Primary School in Balerno, on her success at the Robert Burns World Federation National Festival; notes that Annie, who recited Tam O'Shanter, came first in the Primary recitation category and was overall winner of all four disciplines, which made her Scottish Junior Burnsian 2012; applauds Annie on her achievements and for her performing talents, and praises Deanpark Primary School for encouraging its pupils to participate in and learn about Scottish culture."
Annie will now be invited to perform at the West Sound Burns Supper that takes place in Glasgow in January. The event which is broadcast live is reputed to be the largest Burns supper in the world and attracts around 600 guests.