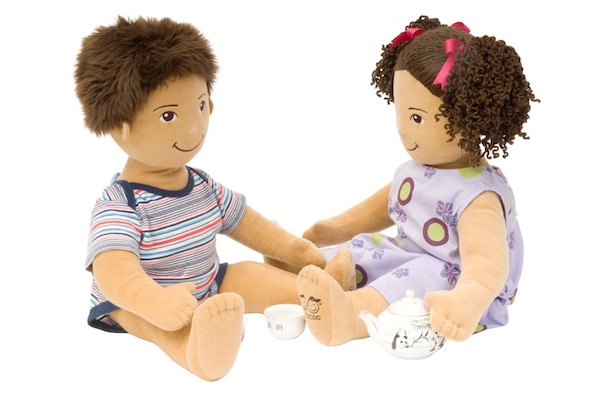 Guys and Dolls – Sales of new Oobicoo soft toy Ollie outstrip Orla 2:1
Boys' dolls are selling twice as fast as girls' dolls according to Totseat founder Rachel Jones, who believes the media have been integral in helping to break down gender stereotypes.
The UK toy industry is worth £2.96bn and since launching the soft toy tots Ollie and Orla last year, multi award winning entrepreneur Rachel Jones has sold twice as many of the boy 'doll' Ollie. Sales of boys' toys take 55% share of the UK toy market and Rachel believes sales of Oobicoo Ollie reflect society's changing perceptions of traditional gender stereotypes.
Rachel says, "We live in a culture where many people look to the media as a guide to behavior and as a result many people conform to majority norms. Traditionally girls have been expected to play with dolls and wear pink and many parents have discouraged their sons from playing with dolls per se, however there appears to be a shift in this gender stereotyping which can only be a good thing."
Oobicoo was originally developed and sold as a mannequin to display the multi-award winning Totseat; a safe, portable, fabric highchair for families travelling with babies. Rachel soon realised their appeal when they became the unlikely classmates of her daughter Freya and her friends, who loved the fact that they were so big and cuddly!
The adorable, soft toy tot Oobicoo is made from gorgeous soft plush fabric and, at 60cm tall, is the same size as a six month old baby – the perfect size to be an instant baby brother, sister or best friend. They come in their own wee fabric 'pod' and are designed to be dressed in hand-me-down-baby clothes. This simple idea not only saves money, it encourages the reuse of outgrown baby clothes, teaches children dexterity and provides Oobicoo with an instant wardrobe.
With sound eco credentials, Oobicoo is filled with recycled polymer, manufactured from recycleable fabric and is raising money for the Children's Immunology Fund – £1 from every sale goes to the charity. Oobicoo even has its very own dance tune, penned by Emily Philips and Josh Wilkinson who co-write for pop superstars One Direction and Alexandra Burke!
Rachel added, "Oobicoo not only helps your child's development, they are perfect for imaginative play, great for teaching dexterity in terms of dressing and undressing and because of their realistic size, they give children someone to cuddle!
"We are delighted to announce the launch of Olwyn, our fourth soft toy tot, who has a different skin tone to the other Oobicoo tots. We are keen to encourage diversity and since launching Oobicoo Ed last year, who is entirely bald, we have had great reactions to the entire Oobicoo family."
Oobicoo Ollie, Orla, Ed and Olwyn are available online at www.totseat.com/oobicoo and retail for £39.99.