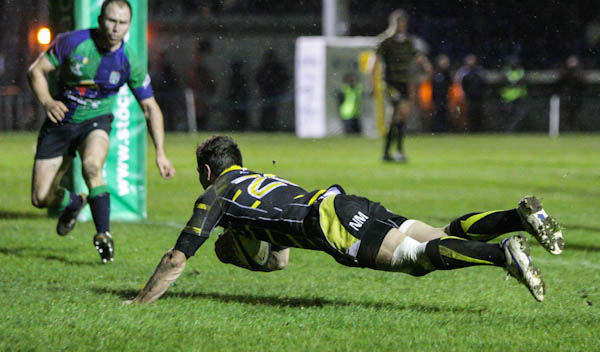 Boroughmuir v Melrose, RBS Premier A, 6 April 2012
Melrose made the trip up to Meggetland on Friday night with a chance of securing the League title – as long as they could win the match with a try bonus point.
That was the theory, anyway, but Boroughmuir went off script for most of the match and Melrose were always playing catch-up until the last 10 minutes of the game when they came alive and really showed what they should have been capable of, rounding the match off with two converted tries.
Melrose looked nervous right from the start, but went ahead with a penalty before Boroughmuir scored the opening try after about 20 minutes from a neat kick-through which was touched down just inside the dead-ball line, and nearly taking out your's truly in the process. Needless to say, self preservation came to the fore – and the photo was missed! With the kick going over, 'Muir were 7-3 ahead and looking like they were the Champions elect. Just before the half-hour mark, Sepp Visser, younger brother of Edinburgh's Tim, barrelled through the defence to 'score' beside the posts. Unfortunately, the assistant referee had spotted an infringement by the home side, which resulted in a yellow card and no try.
With the half time score at 7-3, Melrose started the second half the better for the break and only Boroughmuir's well organised, and occasionaly desperate, defence held them out. A couple of penalties either way saw Boroughmuir keeping their noses in front and with that final 10 minutes looming the score was 13-9 to the home side. However, that last 10 minutes saw Melrose turn on the taps and, for the first time on the night, really looking like Champions. They ran out eventual winners 23-13, but without the hoped for presentation (photographs of which was to be your ER reporter's job on the night) and all eyes then turned to Dundee. They had to beat Stirling County the following day by 53 points and gain a try bonus point to win the league. That was not to be and on the Saturday, Melrose were crowned RBS League Champions, retaining the title for the second year in succession.
Photo and Report – John Preece
Web – http://www.photoboxgallery.com/jlp-photography