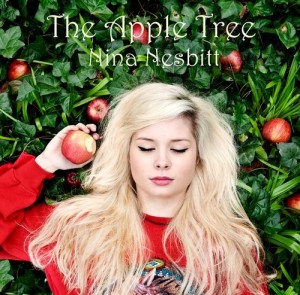 Hype is a beautiful thing. It's that magical quality that can transform you from pulling pints to downing champagne in a matter of mere months. With the stroke of a few pens bands are made or broken.
And Edinburgh's very own Nina Nesbitt has spades of it. Catapulted from a Youtube treasure to supporting Ed Sheeran and Example at massive UK shows at the end of last year, she has definitely caught the attention of many a commentator. The part-time model has received widespread press coverage with rumours that she and a certain Mr Sheeran are now dating.
This perfect storm of publicity culminated in The Apple Tree EP charting in iTunes Top 20 on pre-orders alone (at time of writing she was up to 7th, Adele – yes, Adele – was 14th). So, is this all smoke and mirrors, or is there really substance behind the 17 year-old's undoubted style ?
I'd like to think there is. The EP's eponymous opener sounds like the best of KT Tunstall with added edge. Its simple acoustics and backing make way for an ethereal and catchy chorus that proves almost impossible to not tap along with. 'Seesaw' follows a similar path of light and shade, with Nina'a voice sounding as at home in these recordings as it did on her early Youtube videos.
'Hold On' changes the pace, with the piano-driven number coming to life in perfect time with a forlorn and heartfelt chorus. The song contains a sincerity that is all to lacking in 'pop' music today (apologies for sounding like I want National Service reinstated), singing of a love from a distance that really strikes a chord.
Penultimate track 'Only Love' fares less well, though once it hits it stride it still has its redeeming features. Wouldn't be out of place on a Saturday afternoon at T In The Park.
And 14 short minutes after the first janglings, you find yourself at closer 'Make Me Fall'. Again led by diminutive piano, Nina's glorious voice is given the perfect showcase as she pleads for someone to ignite her love. Ultimately the song departs on a note of hope as she declares "So I'll keep running into the rain/Heart first, head second/I'm away".
The Apple Tree leaves an endearing feeling even for a natural cynic like myself. Bright and breezy, it's what popular music should sound like. It seems preposterous to think that a 17 year-old could conjure up these heartfelt songs whilst also possessing a voice with the splendour to do them justice. It is a shame that some may deride her efforts as that of 'Miss Sheeran' without giving it worthy consideration. But they do so at their own peril. Her genuine excitement on Twitter to the EP's success helps prove she is not playing at popstar, with an army of 'Nesbians' already flocking to her cause. This strong EP is great – following it up with an accomplished debut album will launch her into Marling and Goulding territory.
Nina Nesbitt plays Electric Circus on Saturday 28 April 2012. Limited tickets still available.