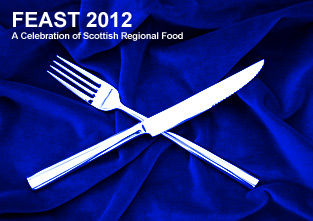 FEAST 2012 unveils the  line-up of Scottish drinks and producers at this weekend's event.
Alongside the impressive line-up of talented chefs who will grace the stage at this Saturday's FEAST 2012, the student-led food festival will see the inclusion of a Booze Boutique as well as a select range of local food producers.
FEAST 2012, the student-led food festival run by Jewel & Esk College (JEC) and Queen Margaret University (QMU), will provide food festival goers with the chance to taste-test a delightful range of quality wines, whiskies, gins, ciders and beers at its Booze Boutique.
Experts from Inverarity Vaults will provide tutor-led tastings of its specialist wines and whiskies while Spencerfield, the producers of Edinburgh Gin, will have tastings of its speciality drink, Raspberry Gin. The award winning Cairngorm Brewery will bring samples of its bottled and cask beers, while East Lothian producer Belhaven will offer a thirst quenching selection of Thistly Cross ciders, as well as its recently developed fruit ice, which due to its surprising nutritional properties, can be counted as one of your 'five a day'!
The event, which will take place on Saturday 28 April 2012, is supported by some of Scotland's finest chefs including Tony Borthwick from the Plumed Horse and Neil Forbes from Café St Honoré, who will conduct live cooking demonstrations throughout the day. In addition, the presence of this year's Booze Boutique is sure to be a winner, with visitors having the opportunity to sample a selection of some of Scotland's finest drinks.
Ron McGilp, Curriculum Development Manager at Jewel & Esk College, said: "FEAST 2012 is a celebration of Scottish regional food. It offers an exciting mix of chef demonstrations, regional tasting menus, tutor-led drinks tasting sessions and the opportunity to meet local food producers and sample their products. We have everything from Peelham Farm's rare breed pork and lamb to Findlay's haggis, and from Supernature rape seed oil to cupcakes and sushi. It's a great opportunity to celebrate the diversity and quality of producers in Scotland and to experience their produce first hand."
Ron concluded: "At just £12 per adult ticket (£5 for students) FEAST 2012 provides excellent value for money. The price of the ticket provides access to chef demonstrations and the producer tasting sessions, as well as the chance to sample more than 20 regional dishes which will be prepared and presented by our chef and student teams throughout the day."
The event will take place from 10am – 4pm on Saturday 28th April 2012 at Jewel & Esk College, 24 Milton Road East, Edinburgh, EH15 2PP. Tickets are priced at £12 (all adults) / £5 (concession available for students and children under 16 years of age only) / children under 5 years go free.
Tickets are available to purchase from the Club and eh15 restaurant at Jewel & Esk College, 24 Milton Road East, Edinburgh, EH12 8RG E: theclub@jec.ac.uk or 0131 344 7373 or 344 7344, or from The Finance Department, Queen Margaret University, Queen Margaret University Drive, Musselburgh, EH21 6UU or on-line. Tickets can also be bought on the day at the event.