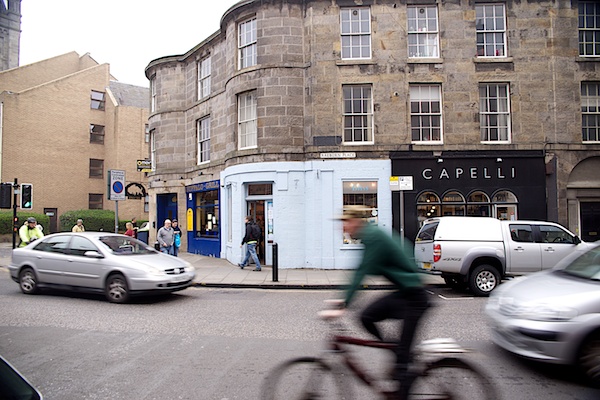 Royal Infirmary suffers power cut – Big things on the beach manifesto – CHAS want your Tesco vouchers – QMU get cycling award – Insulation Conference
The BBC report
that some surgeons at the ERI had to finish off an operation by torchlight after a power cut. They are said to be furious with the managing company, Consort, who are responsible for the maintenance of all facilities at the hospital.
***
Big Things On The Beach have issued a manifesto in anticipation of the forthcoming election on 3 May 2012:-
We believe that Portobello Promenade should be the pride of Edinburgh:
 a unique and creative place where artists and public meet
a vibrant place that attracts cultural activities
a place of recreation for the mind, body and spirit
a 'must see' attraction for locals and visitors
a democratic public space, shared and enjoyed by people of  all ages, races, abilities, classes and cultures.

We call on the incoming Council:

To implement the planned programme for the Edinburgh Waterfront Promenade in Portobello
To apply the terms of the 2008 Waterfront Promenade Design Code to all improvements or developments on Portobello Promenade.
To implement the recommendations of the Public Art Strategy for Portobello Promenade developed jointly by the Council's Development Department and the local community in 2010.
To participate in a Portobello Promenade Development Group
To promote Portobello Promenade and Beach as a major local asset and international visitor attraction and to support associated cultural and economic development initiatives.

You can support our call:
We have compiled
a comprehensive list of all candidates
for the upcoming election grouped by Ward with an individual profile for each one. If you are a candidate then please check out your individual page. If you wish any of the information updated then please
get in touch.
***
The Edinburgh fundraising office of Children's Hospice Association Scotland (CHAS) are calling on all Tesco shoppers to donate their Tesco 'schools and clubs' vouchers to the charity.
Last year CHAS supporters collected a staggering 44,000 Tesco vouchers which were used to provide a range of creative toys and musical instruments for the CHAS at Home service, helping families in their own home and the charity's two children's hospices Robin House and Rachel House. This year the charity hopes to receive 50,000 vouchers. One Tesco voucher is issued for every £10 spent in store.
Fundraising Manager Pippa Johnston said: "The musical instruments funded by the vouchers last year provide fun activities and sessions for the children on home visits, at social events and when we use our mini bus as a travelling sensory studio.
"This year we'd like to provide even more equipment for the children and families to enjoy and hope that our supporters will help us reach our target by Sunday 20 May."
The vouchers can be handed in to the fundraising office at Canal Court, 42 Craiglockhart Avenue or posted to Debbie Mooney, Children's Hospice Association Scotland, 2nd Floor, Buchanan Tower, Cumbernauld Road, Stepps G33 6HZ.
***
Queen Margaret University's push on pedal power has paid off with the recent award of Cycle Friendly Employer from Cycling Scotland.
Known for its sustainability credentials, Queen Margaret University is delighted to have yet another award which helps to demonstrate its commitment to sustainability.
The opening of Queen Margaret University's new campus in Musselburgh in 2007 presented the opportunity for the University to develop a green transport policy. As part of the campus move, the institution has encouraged staff, students and even visitors to consider more sustainable travel alternatives to the car. This has allowed the University to promote the use of pedal power and by providing a full range of incentives including bike sheds, showers, cycle workshops, group cycling events, bike user group and the 'bike to work' scheme, the University is now seeing more staff and students than ever before travelling to the campus by push bike. Cycle users have also been able to maximise the use of the National Cycle Route 1 which runs through the campus.
Matt Sanders, a keen cyclist and Green Travel Champion at Queen Margaret University, said: "We are delighted to receive this award from the largest cycling charity in Scotland. We are continuously promoting the benefits of cycling to work and it's wonderful to know that our efforts in this area are resulting in an increased level of people travelling by bike. We are also pleased that our drive to support cycle users by providing a range of good facilities, useful information and advice, as well as group activities is being recognised in this way."
Cycling Scotland's Cycle Friendly Employer Award is a nationally recognised award for organisations located in Scotland who are committed to increasing staff trips by bike. Developed with support from the Scottish Centre for Healthy Working Lives, the aim of the award is to give employers the incentive and tools to promote cycling in the workplace, resulting in benefits for employers and staff alike. The award also provides best practice guidance in relation to cycle commuting and can be used as a practical tool to implement cycle measures as part of a sustainable travel plan.
Isla Campbell, Active Living Assistant from Cycling Scotland, said: "We are delighted that Queen Margaret University has achieved the Cycle Friendly Employer Award. It highlights a real commitment by the University to encourage staff and students to travel more sustainably. Cycling is also a great way to keep fit and healthy and we congratulate the University on all the hard work they have done to improve facilities for cyclists."
***
Social enterprise Changeworks has taken the bull by the horns and is hosting a ground-breaking conference on solid wall insulation – a hot topic in the energy and housing sectors as Scotland moves towards a low-carbon society.
The conference, being held today in Edinburgh, will bring together experts and industry representatives to explore the opportunities, barriers, solutions and myths surrounding insulating solid wall buildings.
With schemes like the Green Deal and Energy Company Obligation (ECO) on the horizon it's more important than ever to air debates and opinions around the topic of solid wall insulation; a measure that will become much more prominent as funding for traditional cavity wall and loft insulation dwindles, and hard-to-treat properties become the focus of the Government's efforts to reduce carbon emissions.
Changeworks is ideally placed to host such an event, due to its respected position in the environmental sector and its reputation for innovative research and expert consultancy. The sell-out conference counts architects, planners, surveyors, insulation installers, local authorities, housing association representatives, community groups, energy consultants, academics and individual householders among its delegates. With an experienced panel of speakers and the opportunity to handle products from leading exhibitors, the conference looks set to provide a forum for new dialogue and a wealth of information around the topic of solid wall insulation – a subject often avoided because of the associated difficulties it poses.
Ian Smith, Head of Consultancy at Changeworks and conference Chair, said: "For a long time government initiatives have tended to focus on the low hanging fruit, namely easy-to-treat homes that can take cavity wall insulation – but in Scotland that leaves us with a significant shortfall as so many of our homes are built from solid stone or brick."
"With this in mind it's key to the future of Scotland's environmental targets that we create an open forum for debate and discussion around the next step – tackling those harder-to-treat buildings where, after all, many householders are in or at risk of fuel poverty, another of the government's key priorities."
The conference will offer a chance to hear independent views from a range of key perspectives and will provide the latest insight and debate on the topic. It will address barriers to installation including cost, technical complexities and disruption to occupants. This controversial area is likely to generate lively Q&A sessions and plenty of delegate interaction. The conference outcomes will form a critical report on solid wall insulation funded by the Scottish Government.
The conference has sold out but to access further information and see the final report, sign up to Changeworks' e-news.
The Solid Wall Insulation Conference is a Changeworks event supported by Historic Scotland and The Scottish Government.