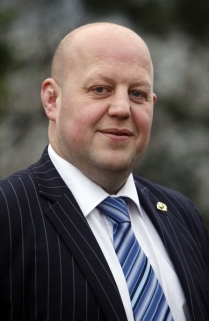 Mark Brown is standing as Conservative candidate for the Drum Brae/Gyle Ward.
Mark, 38, has lived in Edinburgh all his life and is married to Laura. He manages a portfolio of SME companies for a global independent Invoice Financier in the City's Southside. Outside the office, Mark enjoys playing Cricket for the Woodcutters CC & Holy Cross CC, and was President of Broughton Rugby Club from 2006-2011.
Mark is looking forward to meeting as many local residents as possible between now and the election to find out what the real issues are on the doorsteps throughout the ward.
He said, "I am proud to have been selected as the Conservative candidate in the Drum Brae / Gyle ward. This is a ward that plays an integral role in shaping Edinburgh's economy, through it being home to many of the key players in the financial industry and the iconic Gyle Shopping Centre. It's also a great part of Edinburgh in terms of its recreational facilities and green spaces.
My message is a simple one. I believe that it is time for change and a time for real leadership in the Council. This will only come from understanding the needs and aspirations of the people that politicians are here to serve. Politicians must stop seeing themselves as a special breed, destined to the 'statesmen'.
I will be someone who will put local people first, someone who will understand their problems and represent and fight for their interests. My number one priority is to help people make the best of their lives. We must always work towards a bigger and better Edinburgh and whilst maintaining core political principles, I am more than willing to work with others in the multi-member Ward to deliver a blueprint to help shape Edinburgh's future."
You can contact Mark through the Conservative Party office, email him direct at mark.brown@scottishconservatives.com or you can follow him on his blog