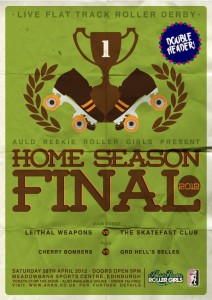 After three months of action-packed, adrenalin-filled roller derby, this weekend sees the Auld Reekie Roller Girls, Edinburgh's roller derby league, make history with their very first Home Season Championship Final.
The event – starting at 5pm on Saturday 28 April 2012 at Edinburgh's Meadowbank Sports Centre – will be a double header featuring all of ARRG's home teams and special guests from Glasgow Roller Derby, the Hell's Belles. The action will begin with a runners-up game between the Cherry Bombers and GRD's Hells Belles, prefacing the main event at 7:30pm when the undefeated Leithal Weapons tee off against the plucky underdogs, The Skatefast Club.
An ARRG spokeswoman said:-"The run up to the final has been electric, with great atmosphere from the crowd and serious determination from the girls on track. Every team has been skating fast, hitting hard and battling till the final whistle to ensure that they had a shot at the title. Now the final is upon us, and we will see The Skatefast Club pitted against the Leithal Weapons for the ever-desired championship title. Everyone is playing to win and both teams are sure to be pulling out their best moves and tactics – it's definitely not to be missed! Whether you have seen roller derby before or if it's your first ever game, this is the perfect time to come along and support ARRG for an evening of guaranteed fun and an excellent Saturday evening of entertainment! You won't be disappointed! "
Skatefast captain Mallory Powers seemed mighty focused when she told us:-"I couldn't be prouder of my team for making it to the home season final!  All of our hard training and focus has really been paying off and we are more than ready for Saturday's bout.  Needless to say, we'll be the most stylish bunch of misfits on track, and we have the skills to match. Those Seagulls better look out, as we plan to exercise a little bit of pest control. "
The Leithal Weapons are similarly prepared, with Leithal's captain, Alma Geddon, weighing in on the final as follows:-"Though we have played a consistent season, this doesn't mean we are heading in to the final relaxed. We are prepared to fight hard for a title that we plan to earn!"
Don't miss the finale of ARRG's biggest and best (and first) home season!
What is modern roller derby? 

Roller derby is an all-female sport that involves teams competing on an oval track in a series of 'jams' – two minute periods that see teams of five players each battling to score points. During each jam, one player on each team is designated as the 'jammer' who scores a point for every member of the opposing team she passes.
The sport requires a punishing array of agile and athletic skills, from zig-zag blocking moves to body slams to all-out speed-skating. To perfect these manoeuvres, skaters commit to several hours of practice every week, paying for gear and practice space out of their own pockets.
While it has its roots in sports-entertainment-style exhibition bouts going back as far as the 1930s, modern roller derby has reinvigorated the game with a grass-roots DIY ethos that puts the passion for athleticism front-and-centre.

The trend finally reached Edinburgh in 2008, when a small group of women founded ARRG.
The Edinburgh league now averages at over 80 skaters, and is run purely on the volunteer efforts of its members. Auld Reekie Roller Girls recently became full member of the Womens Flat Track Derby Association (WFTDA).
Photo Brian Anderson