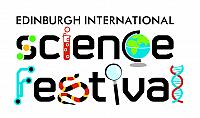 Looking for something to do with the family this Easter?  How about exciting circuits, scary skeletons, racing robots and manic monsters?  Then the Edinburgh International Science Festival is the place for you.   The City Art Centre, the flagship venue for the Science Festival's Family Programme, is packed full of workshops, shows, experiments and interactive events suitable for families with children aged from 2 to 12.
With activities filling six floors, there will be plenty to keep everybody amused for a day – although some popular events can be booked in advance, most are drop in as you make your way through the building.  Meet the Bubbleologists and find out how to make a round bubble square, put on your safari gear and join our research scientists in the deepest, darkest jungle, unwrap an Egyptian Mummy or make your own blood curdling scabs on the Blood Bar.   New activities for this year include Visual-Eyes, supported by Optos, where children can peek inside a giant eye, find out how lenses work and even watch the dissection of an eyeball.
There's one week left to take advantage of the Science Festival Early Bird offer at the City Art Centre. If you book before Saturday 24 March you can get £1 off all children's Day Passes on Saturday 31 March, Saturday 7 and Saturday 14 April.    The Edinburgh International Science Festival at the City Art Centre runs daily from Saturday 31 March to Saturday 14 April (excluding Sunday 1 and Sunday 8 April).
Other family-friendly events include a series of science stories at Scottish Storytelling Centre, scientific trails around National Museum of Scotland and the chance to explore the science of food with live cooking demonstrations and tasting experiments at Royal Botanic Garden Edinburgh.
Full details of all the activities in the City Art Centre, and across the Edinburgh International Science Festival, and all tickets, can be found atwww.sciencefestival.co.uk.
Tickets can also be purchased by phone through the Science Festival Box Office on 0844 557 2686 or in person at the Edinburgh Fringe Festival shop, 180 High Street, Edinburgh (open 10.30am – 5.30pm Monday to Friday, 11.00am to 5.30pm Saturday).