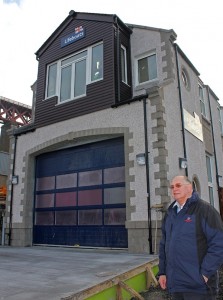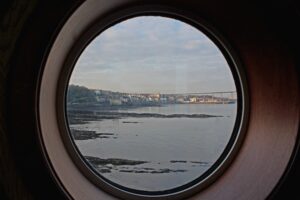 The impressive new RNLI Queensferry Lifeboat Station is nearing completion at the Hawes Pier, South Queensferry.
The new station should be completed by the end of February and after acceptance by the RNLI the new Atlantic 85 Lifeboat the "Jimmie Cairncross"will arrive from RNLI HQ in Poole.
The RNLI Queensferry Lifeboat Station was first opened in 1967 at the Hawes Pier and was a wooden construction which was previously the ticket office for the ferries which ran between North and South Queensferry prior to the opening of the Forth Road Bridge.The existing Station was specially built and opened in 1989 and has been home to five Lifeboats with the latest named the"Jimmie Cairncross"by HRH The Duke of Edinburgh at a ceremony last year replacing the "Donald and Ethel Macrae" on station since 1997.
The new Lifeboat Station is a very impressive building featuring on the ground floor a shop complete with a toilet and small kitchen, which will be appreciated by the ladies who have operated from the open shed in all weather winter and summer. The crew area has a changing area , shower area, and locker space for twenty three crew. The spacious boathouse hosts wet lockers, a shower to wash the crew's operational dry suits and equipment, a dedicated area for the mechanic and ample space for the Atlantic 85 Lifeboat attached to the tractor, thus speeding up launch times with direct access down the pier.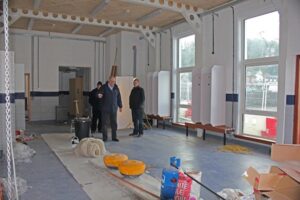 Up an imposing staircase to a kitchen area and past the Lifeboat Operations Manager's office to the crew lounge area featuring attractive port hole windows, a chart table and panoramic views up the Forth to Crombie and down to Inchcolm Island. This room will be used extensively for crew training, Station visits with the advantage of audio visual equipment.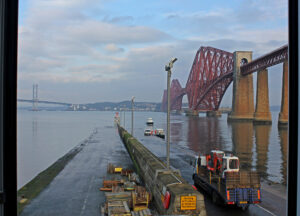 RNLI Queensferry Lifeboat Station Operations manager Tom Robertson MBE voiced his delight at the new station with vastly improved crew facilities, training room and the shop and spacious boat house allowing direct access down the pier saving precious minutes when launching. Tom said the new Station was a credit to the RNLI architect with his sympathetic design enhancing the Hawes Pier area of South Queensferry.