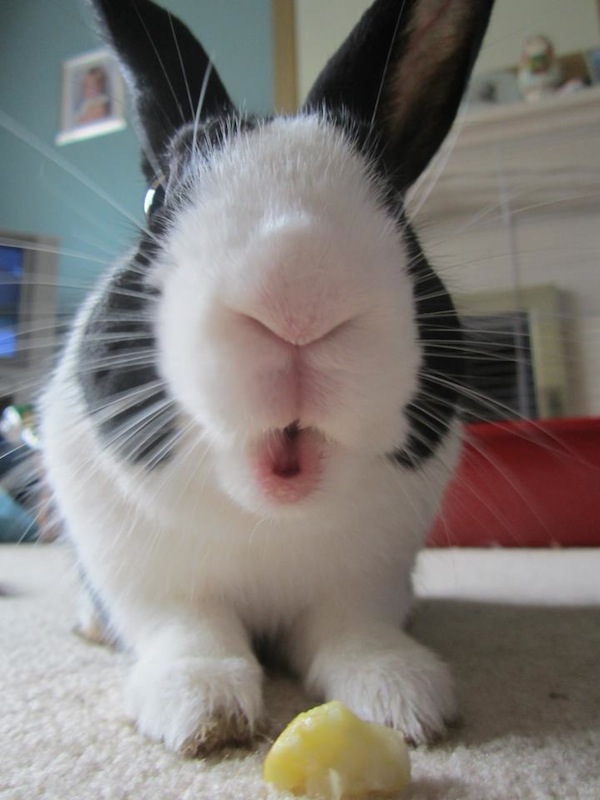 We came across this rather unusual Midlothian based service on Facebook today, and asked Emma Boyd, one of the founders, to tell us more:-
"We have run Buddies Bunny Rescue since June 2011, 'we' being myself – Emma Boyd and my ex work colleague Natalie Constance.  We met while working together at the SSPCA and have both worked with animals for years now.  It was at the SSPCA we became aware of what a huge problem domestic rabbits face.  They are the third most popular pet, but over 33,000 ended up in rescues throughout the UK in 2010 according to a report by the PDSA – the numbers will no doubt have risen since.
People take on rabbits thinking they are like rodents and can be kept in a small cage with little interaction or exercise – this is NOT the case.  Rabbits need SECS – Space, Exercise, Companionship and Stimulation – many bottom of the garden hutch rabbits get none of that!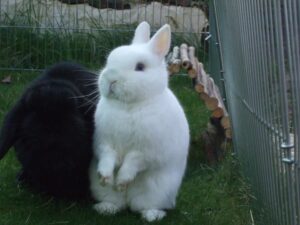 We aim to take in rabbits that are unwanted, stray, ill treated etc, neuter and vaccinate them and rehome them to 'forever homes' with other rabbits for company.  We also hold public events and awareness days for people to come along and learn how rabbits should be properly looked after.
The next event is the Dick Vet evening, and then we are running a rabbit awareness day at Carrington Village Hall on 24th March – more details about that soon.
Just to give you an idea of what we are dealing with – we have admitted 106 rabbits since June and always have a waiting list!  We receive no public funding and solely rely on public donations, our charity application is in so hopefully we will become registered without much hassle and can fundraise that way.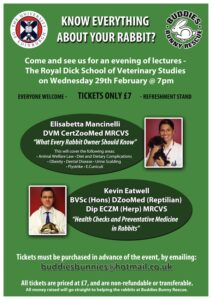 We are based in Midlothian from a private house and the rabbits are either kept there or out at one of our dozen foster carers.  We are always looking for more foster carers or people with fundraising ideas."