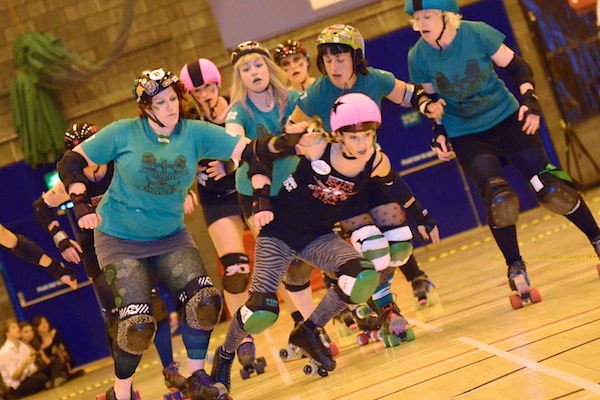 Nail biting action gripped Edinburgh's Meadowbank Sport Centre in January as the Auld Reekie Roller Girls kicked off their first home season with a closely contested bout between the Leithal Weapons and Cherry Bombers. It was clear from the off that both teams meant business, with the 60 minutes of play filled with hard hits, high scoring power jams, great tactical skating and real tension as the final score filled the board.
The bout finished 179 to the Leithal Weapons and 171 to the Cherry Bombers – a close game! With their first win under their belts the Leithal Weapons now face the 80's themed Skatefast Club on the 25th of February.
The crowd can expect a great afternoon of roller derby as both teams do everything in their power to stop the other scoring those valuable points to win a chance at the coveted home season championship title.
Leithal Weapons' vice-captain, Alma Geddon, is more than excited for the upcoming game:-
"Soaring high after winning the first ever home team season bout against the Cherry Bombers, the Leithal Weapons are gearing up to take on their next challenge. Can our seagull-powered steampunks make it two wins in a row? You can be sure we'll give it everything we've got. Come along and see for yourself!"
Meanwhile, The Skatefast Club have been on a strict regime in the run up to the first game of the season. Skatefast captain, Mallory Powers had this to say on the upcoming challenge:
"After that amazing home season opener, we've certainly got our work cut out… but this bunch of misfits has been training hard and we're ready for the challenge. All you athletes, princesses, brains, recluses and criminals will be blown away by the skills and style of the Skatefast Club!"
Don't miss the second bout at Meadowbank of ARRG's biggest and best (and first) home season!
This year the upcoming Auld Reekie Roller Girls Home Season Bouts take place in February and April.
Saturday 25 February, 2pm The Skatefast Club v Leithal Weapons
Saturday 7 April, 2pm The Skatefast Club v Cherry Bombers
Saturday 28 April: Championship Bout
Tickets: £6 plus booking fee online, £7 on the door.
Available from: http://skatefastvweapons.eventbrite.com/?ebtv=C
All bouts and season tickets are free for children aged 14 and under
What is modern roller derby?
Roller derby is an all-female sport that involves teams competing on an oval track in a series of 'jams' – two minute periods that see teams of five players each battling to score points. During each jam, one player on each team is designated as the 'jammer' who scores a point for every member of the opposing team she passes.
The sport requires a punishing array of agile and athletic skills, from zig-zag blocking moves to body slams to all-out speed-skating. To perfect these manoeuvres, skaters commit to several hours of practice every week, paying for gear and practice space out of their own pockets.
While it has its roots in sports-entertainment-style exhibition bouts going back as far as the 1930s, modern roller derby has reinvigorated the game with a grass-roots DIY ethos that puts the passion for athleticism front-and-centre.
The trend finally reached Edinburgh in 2008, when a small group of women founded ARRG. The Edinburgh league now averages at over 80 skaters, and is run purely on the volunteer efforts of its members. Auld Reekie Roller Girls recently became full member of the Womens Flat Track Derby Association (WFTDA).
Photo credit Brian Anderson