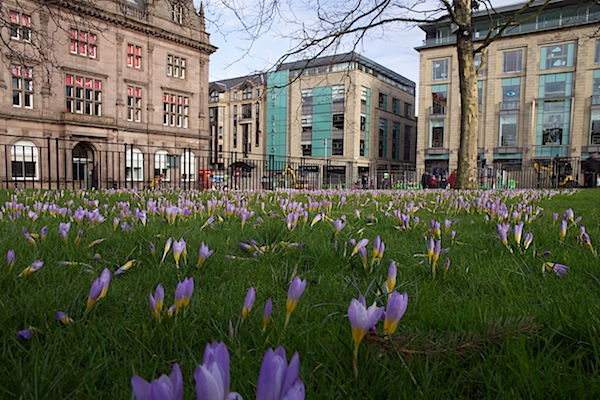 Stephen Hester's £963,000 bonus
£2m surplus to be spent by council
20% increase in profits for Edinburgh company
Former soldier sues for £400,000
BT speed up broadband
Well here we are, almost at the end of the first  month of 2012 already. Less than 100 days to go until the local government elections, and just under six months until the Olympics in London.  We now have two sick pandas in Edinburgh Zoo who were not able to meet their public over the weekend. How many birds did you count in the Big Birdwatch for RSPB?  And just to stimulate a rush for new followers, we would like to tell you that we have almost. very nearly, not quite, but oh so tantalisingly close to, 5,000 followers on Twitter.
So it seems that today is all about numbers….
Stephen Hester, CEO of RBS has waived his £963,000 bonus, following pressure from Labour that they would oppose the payment in Parliament according to Robert Peston on the BBC website. However, other newspapers reported over the weekend that he has received at least £35m in salary and bonus payments since taking the job in 2008.
***
The Council have £12m surplus in this financial year, some of which the convener of the Finance & Resources Committee, Councillor Phil Wheeler, wants them to spend on pothole repairs, equipment for disabled and elderly, road safety and active travel and other items listed in his motion which will be put before the council meeting this Thursday. Her
We will have a separate report and preview of that meeting for you later this morning, and we will be attending the meeting which will be updated live as it happens on our Liveblog pages.
***
Edinburgh based John Menzies is no longer a newspaper shop, and having reinvented itself with the addition of its aviation business, the company is now on the way to breaking all previous profit figures. This year the pre-tax profit is 20% ahead of what it was last year according to The Financial Times  .
***
A FORMER soldier is suing a Scottish paintball firm for up to £400,000 after  he was shot in the face, losing the sight in one eye.
Allan Weir was shot from less than 6ft by a paintball pellet travelling at around 280 feet per second, causing his right eyeball to "burst".
The father of two from Edinburgh has struggled to find work since the horrific incident and still suffers intense pain from the injury… More from Deadline News
***
BT claimed this week that round 69,500 more homes and businesses in 14 Scottish communities now have access to faster broadband.
They are the latest places in the country to benefit from the roll-out of BT's next generation broadband service delivered over copper lines.
The communities include Penicuik in Midlothian.
The BT investment makes available download speeds of up to 20 megabits per second (Mbps) – more than double the speed previously available from BT. So Penicuik tell us how it is! Is your broadband really snappy?