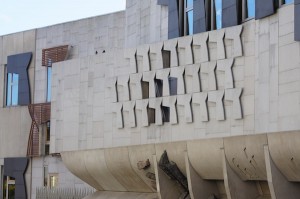 First Minister Alex Salmond at the Scottish Parliament in Edinburgh yesterday outlined detailed proposals for the referendum in autumn 2014 on whether Scotland should become an independent country.
The consultation paper – Your Scotland Your Referendum – seeks views on:
what the ballot paper should say
what spending limits should be set
how the referendum should be managed and regulated
The consultation will close on May 11, 2012.
Mr Salmond said:
"The people who live in Scotland are the best people to make decisions about Scotland's future. The referendum will be held in autumn 2014 on the same terms as any Scottish election, to the same standards and with the same guarantee of fairness.  We will decide our future in a vote which is beyond challenge or doubt.
"Our nation is blessed with national resources, bright people and a strong society.  We have an independent education system, legal system and NHS.  They are respected worldwide.  I believe that if we connect the wealth of our land to the well-being of our people, we can create a better country.
"Independence matters because without it we do not have the powers to reach our potential.  We are limited in what we can do to create jobs, grow our economy and help the vulnerable.  To achieve this we shouldn't have a constitution that restrains us, but one which frees us to build a better society.
"Under independence, Scotland would take its place as a responsible member of the international community while continuing as a friend and good neighbour to the other nations of these islands, continuing the strong social union which will always bind us together.
"It is our future and our choice."
The Scottish Government explained the background to the procedure:-
"The referendum will be administered using the same arrangements as local and parliamentary elections in Scotland, making use of Scotland's unique electoral management structure, co-ordinated by the Electoral Management Board.

The poll and the count will be managed in the same way as those for elections, by local returning officers (designated for the referendum as 'counting officers') directed by a Chief Counting Officer (CCO) who will be responsible for ensuring the proper and effective conduct of the referendum.  Returning officers, electoral registration officers and their staff will be responsible for managing the registration, poll and count processes within their local areas.  The detailed rules about the conduct of the poll will be based on those applying to the conduct of all elections in Scotland.

The regulation and monitoring of the referendum campaign will be undertaken by the Electoral Commission which will also issue a range of guidance.  The Commission will also report on the referendum process after it has been completed.  In its responsibilities for this referendum the Commission will report to the Scottish Parliament.

In line with international best practice the franchise for the referendum on Scotland's constitutional future will reflect residency in Scotland.  Eligibility to vote will be the same as for Scottish Parliament and local government elections and for the 1997 referendum on devolution. The Scottish Government also proposes to extend the franchise to include those 16 and 17 year-olds who are on the electoral register on the day of the poll."
Read the consultation document Your Scotland Your Voice
Find more information on the referendum
View a timetable for full public and parliamentary consideration of the proposals