A new green investment fund has acquired a significant shareholding in Edinburgh wave energy company Aquamarine Power it was announced today. The deal sees the Environmental Energies Fund (EEF) acquire a portion of the shareholding previously held by SSE Ventures, the venture capital arm of SSE plc.
The £95 million secondaries fund has been formed to acquire and invest in a portfolio of innovative UK based green energy businesses originally backed by SSE plc.
The fund is managed by leading UK growth equity and venture capital firm Scottish Equity Partners (SEP) and will operate as a partnership between FTSE-100 listed SSE plc, one of the UK's largest energy companies, and four blue-chip institutional investors, headed by Lexington Partners, the world's largest manager of secondary private equity funds.
SSE retains a significant interest in the fund along with a number of substantial financial investors. EEF becomes one of Aquamarine Power's larger shareholders, along with SSE, multinational power and automation company ABB and Scottish Enterprise, the Scottish Government's enterprise agency.
This follows the announcement in September 2011 that Aquamarine Power had secured £7 million of new funding and a commitment of further investment in the company from its existing shareholders over the next two years.  Existing shareholders subsequently invested a further £4 million in November 2011.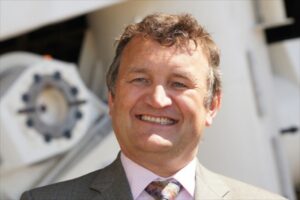 Aquamarine Power CEO Martin McAdam said:
"This commitment by Scottish Equity Partners is another tremendous vote of confidence in Aquamarine Power's Oyster technology, our team, and the global market potential of wave energy.
SEP has a 20 year track record in helping innovative companies grow and deliver value.  Aquamarine Power is delighted to gain the financial and strategic expertise of this highly regarded fund manager along with the interest of substantial financial investors. This deal now gives us the combined backing of SSE along with a number of other major institutional investors.
I would like to thank SEP, SSE and our other investors who all remain exceptionally supportive of our business strategy."
SEP Partner Gary Le Sueur said:
"We are excited to join SSE, ABB, Scottish Enterprise and other respected energy sector investors in becoming part of Aquamarine Power, a business that is clearly emerging as one of the world's leading wave power developers."
SSE's Finance Director Gregor Alexander said:
"SEP have a strong track record in helping innovative companies such as Aquamarine Power grow and mature. By transferring a portion of our shareholding in Aquamarine Power into the Environmental Energies Fund, we expect the company to benefit from the track record and expertise of SEP, draw upon the financial resources of the new partners and ultimately deliver a better return on our initial investment."