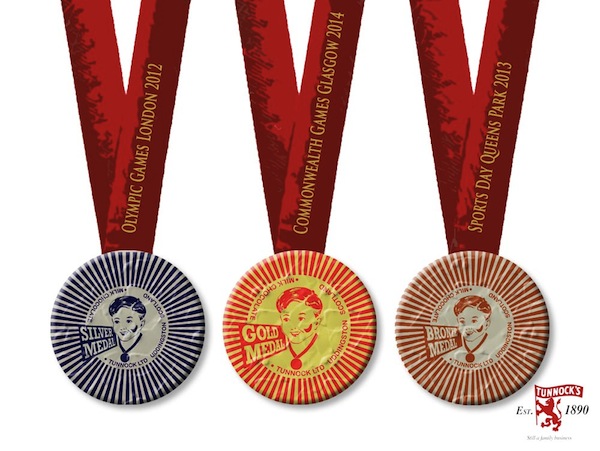 Ceramic jelly moulds, travel blankets, politicised tenement-shaped jewellery, a sports wear accessory, an iPhone app, and medals made from Tunnocks teacakes. No, not an eccentric Christmas list: these are the winners of Scotland Can Make It! a nationwide competition which asked Scotland's artists and designers to create a series of souvenirs inspired by London 2012 and the Glasgow Commonwealth Games of 2014, manufactured entirely in Scotland. And there's not a single keyring or tartan shortbread tin amongst them.
The six winning collaborations, including Scottish manufacturers TUNNOCKS, JOHNSTONS OF ELGIN and CHEMIKAL UNDERGROUND, rock band FOUND, internationally renowned visual artist LUCY MCKENZIE and much-lauded ceramicist KATY WEST will now go on to create prototypes of their designs, working in conjunction with Scottish manufacturing companies, which will be displayed in a major exhibition at Glasgow's People's Palace in 2012. Beyond 2012, Scotland Can Make It! organisers Panel will investigate the possibility of production, distribution and sale of the final souvenirs leading up to and coinciding with cultural activities planned for the Commonwealth Games in Glasgow in July 2014.
As the competition was created to enable relationships between Scotland's creative and industrial sectors, each entrant was asked to specify a Scottish-based manufacturer they would work with on the project. Entries were judged by a panel featuring some of the UK's most influential art and design professionals, including Turner Prize Winner 2011 Martin Boyce, leading design retailer Sheridan Coakley, Alasdair Campbell (former director, The Tolbooth, Stirling) and Christina Jansen (Curator, The Scottish Gallery, Edinburgh).
Textile designer Claire Duffy will work with legendary Scottish confectionary brand Tunnocks on TUNNOCKS MEDALS: a re-working of the iconic Tunnocks Teacake foil wrapping into gold, silver and bronze medals, packaged as a three-set in souvenir boxes: perfect as prizes for sports days or just a fun way to get families involved by staging their own mini games!
THE GOLDEN TENEMENT, a collaboration between graphic designer Neil McGuire and goldsmith/jeweller Marianne Anderson, proposes to investigate urban regeneration and displacement, and how particular ideas of 'city' and 'nation' are perpetuated through mega-events such as London 2012 and Glasgow 2014. Miniature replicas of the tenement building in Dalmarnock that was pulled down to make way for the Commonwealth Games' infrastructure, will be mass-produced to be sold as souvenirs in 2014. These replicas will call attention to the story of the residents' eviction, and to other stories of displacement through regeneration.
Taking the line that while events like the Olympics or Commonwealth Games are historical occasions, in commemorating the day you're as likely to be remembering a good time with family or friends, Atelier (fashion designer Beca Lipscombe and internationally-renowned artist Lucy McKenzie), working with Marc Camille Chaimowicz, propose to create a set of three LAMBSWOOL TRAVEL BLANKETS, manufactured by master weavers Begg Scotland of Ayr, with leather carry-cases made by McROSTIE of Glasgow. The blankets are intended to be used for picnicking, or wrapping up warmly, at outdoor events.
Ceramicist Katy West, whose designs have been shortlisted for Homes and Gardens Classic Design Award and featured in Elle Décor and Wallpaper*, proposes to work with North West Highland pottery, Highland Stoneware to create CERAMIC JELLY MOULDS in the shape of iconic Scottish skylines, both rural and urban. The moulds tap into a historic Scottish design tradition, paying homage to the 17th Century designs of Glasgow company Bells Pottery. West proposes to work with a number of high-profile Scottish chefs on sweet and savoury jelly recipes to accompany each design, reclaiming the jelly from a children's party staple as a specifically Scottish delicacy.
Art-pop band FOUND, perhaps best-known for their BAFTA-winning 'autonomous emotional robot band' Cybraphon, exhibited at both the Edinburgh and Glasgow International Festivals of Visual Art in 2010, have questioned whether a souvenir need necessarily be a physical product at all. Working with Glasgow record label Chemikal Underground, they've proposed a SOUVENIR APP, designed to actively encourage users to return to the London 2012 and Glasgow 2014 sites. Depending on the user's global positioning, each audio-visual app will reveal more and more of a specially-created piece of music and accompanying artwork.
Weave designer Angharad McLaren and Emlyn Firth of A Visual Agency propose to work with renowned Scottish textile manufacturers Johnstons of Elgin to create a new fabric for sportswear accessories. They plan to use the popularity of sports performance apparel as casual wear among broader Glasgow society as a genuine way to engage people from diverse backgrounds in sporting activity.
Lucy McEachan and Catriona Duffy of Panel said: "Souvenirs communicate a strong message about an experience, a place, and its culture. The winning Scotland Can Make It! proposals will bring well-designed Scottish products to public attention, in addition to focusing our industrial sector's attention on good design. Representing the breadth of contemporary Scottish creativity, the proposals range from affordable pieces, through limited-edition designs, to complex proposals that explore our relationship to large-scale events such as the Commonwealth Games."
Iain Munro, Director of Creative Development at Creative Scotland, said: 'Scotland Can Make It! offers a great platform to showcase our creative and manufacturing talent to national and international audiences during two major events: the London 2012 Olympic and Paralympic Games and Glasgow 2014 Commonwealth Games. Next September's exhibition will be a highlight of the Year of Creative Scotland – a chance for us to support, showcase and celebrate Scotland's creativity.'