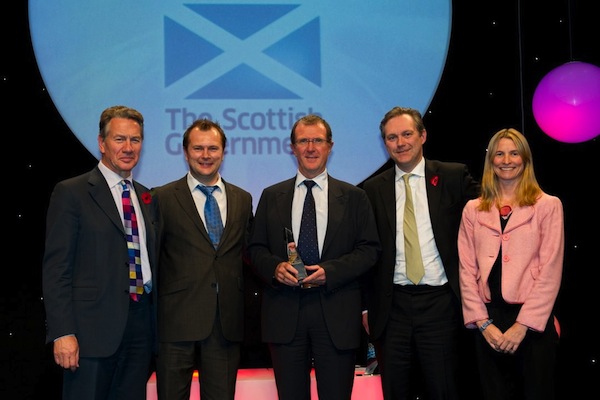 An innovative funding model which unlocked finance  to build much-needed affordable housing in Edinburgh has scooped two national awards.
Dunedin Canmore Group won the awards in partnership with Rettie & Co, Springfield Properties Plc after securing a deal which enabled them to build the £1.3m Moray Apartments in Brunstane. Some of the 15 rental properties in Milton Road East have stunning sea views and others have outlooks towards the Pentland Hills.
Rettie & Co devised the pioneering Resonance funding model in conjunction with  the housing association. In a bid to kick-start building and provide much needed housing, the local authority agreed to guarantee any exceptional operational losses over 10 years. This allowed Dunedin Canmore to unlock private finance and build the £1.3million development without further government funding.
The Resonance model beat entries from across the UK to win both the Excellence in Housing Finance and Development category and the Outstanding Achievement in Housing in Scotland award at the Chartered Institute of Housing UK Housing Awards 2011.
Ewan Fraser, Chief Executive, Dunedin Canmore Group, accepted the awards from Michael Portillo on behalf of the partners at a presentation ceremony at the Park Lane Hilton in London.
Mr Fraser said:
"It is fantastic to win these national awards in conjunction with our partners. Social landlords are being forced to seek out alternative finance streams as government investment in housing is tightened. Dunedin Canmore is determined to continue improving communities and addressing the housing shortage.  Innovation is essential if we are to continue building much needed affordable rented housing in these financially  austere  times."
Matthew Benson, Director of Rettie & Co said:
"Winning these two national awards is a great achievement.  A huge collaborative effort has been put in by the combined team, working closely with City of Edinburgh Council and the Scottish Government to bring forward this funding model. The model itself and the way it has been brought to fruition, is a great example of the public and private sector co-operating and innovating to maintain supply under very difficult market circumstances."
The Moray apartments proved a hit with tenants from the outset. The official opening ceremony was performed by former Housing Minister Alex Neil this spring and attended by tenant Medhi Stuart.
After moving into his flat Medhi (35) said:
"The view from my second floor apartment is fantastic. I'm the envy of all my friends. Not only does the flat have a great location – it is also very affordable.
"I can't thank Dunedin Canmore enough for the opportunity to have such a wonderful home."