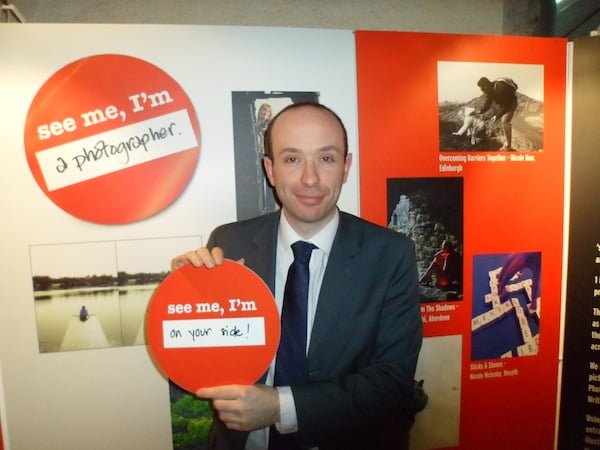 Today, at the launch of Scottish Mental Health Week (10 – 16 Oct 2011) and as part of World Mental Health Day, Marco Biagi MSP is raising awareness of mental health issues by signing the "see me" Wall of Support and pledging their commitment to deliver a real impact on reducing stigma and changing public attitudes associated with mental ill-health in Scotland.
National statistics show that one in four people in Scotland will experience a period of mental ill-health. This means an estimated 22,166 adults in Edinburgh Central could experience a mental health problem at some point in their lives. Many more will know and support or care for someone close to them.
Marco Biagi MSP says: " The work  of "see me" in tackling the stigma and discrimination of mental ill-health has reached out to people across Scotland and contributed significantly to a positive shift in public attitudes. However there is still work to do and we will continue to take action to break down stigma and allow people to seek the help and support they need. By signing the "see me" Wall of Support I have pledged my commitment to improving the mental health and well-being of people in Edinburgh Central.
Improving mental well-being is a key priority for the Scottish Government and at a recent "see me" event at the Scottish Parliament almost 70% of MSPs pledged their support for the "see me" campaign.
Suzie Vestri, "see me" Campaign Director says: "While people are increasingly open about their mental health, stigma and discrimination still exists and we have much to achieve in reaching the "see me" vision for a Scotland where all people with mental health problems are fully equal and included.
"I think it"s fantastic that so many MSPs have the topic of mental health on their agenda and we hope that the support they have pledged will encourage others to take positive action by joining us in tackling the stigma of mental ill-health."